How to Season Firewood Fast
Delivering Mulch & Firewood to Support Local Causes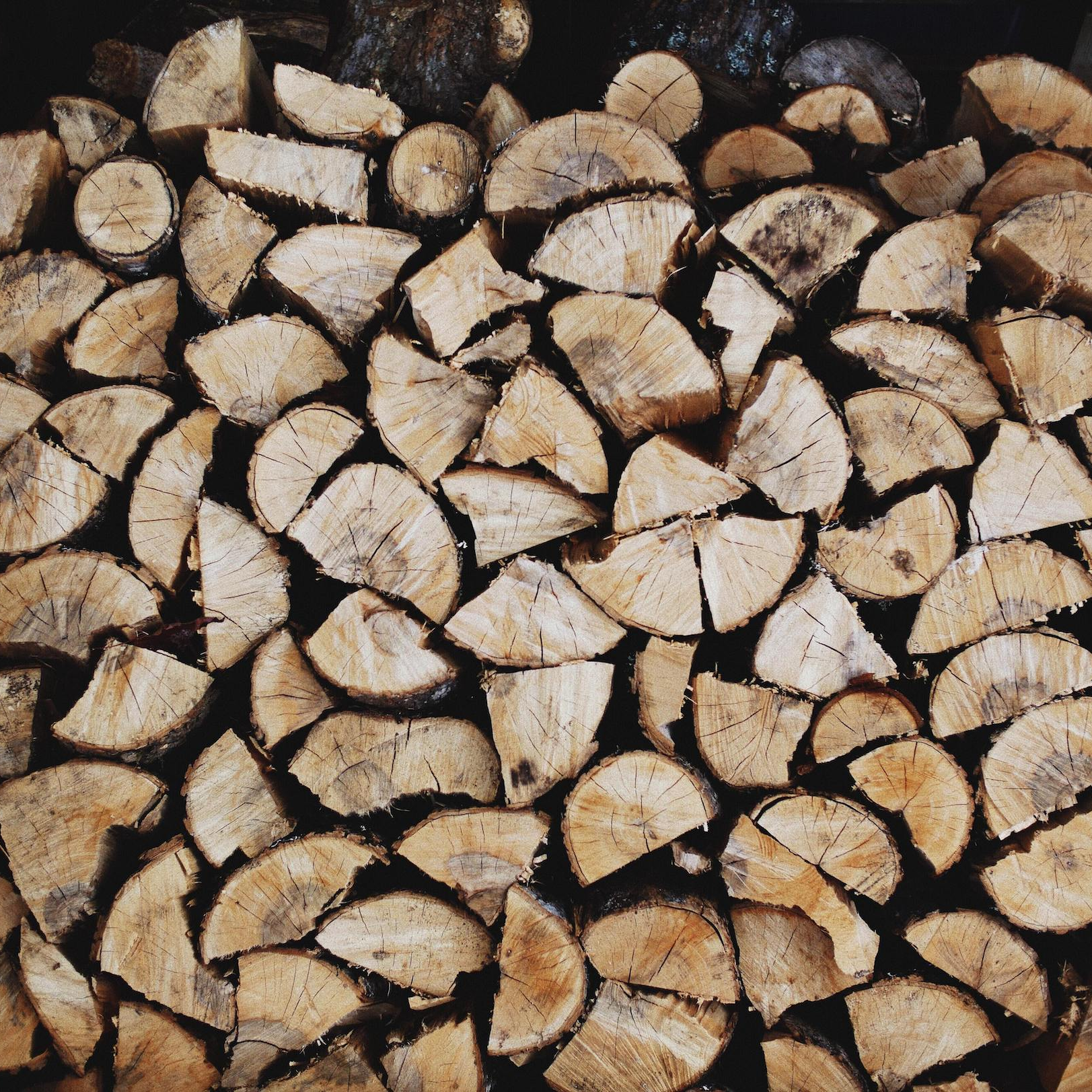 Firewood Delivery
Schedule your firewood delivery in a few clicks, and stay cozy all winter long. 
Landscaping & Patio
Create a backyard oasis with new mulch beds and plants or your dream patio.
Simple Online Ordering
Order today & schedule delivery for any date you like.
How To Season Firewood Fast
When you're thinking of ideas on "how to season firewood fast," the good news is there is more than one way to get it done. It generally takes six months to a year for a typical firewood seasoning process, so you'll need a spot where the woodpile can sit stacked for that long. If you're looking for logs that can go straight on the fire, order your bulk firewood delivery directly from Haulstr's website. You can have seasoned, split firewood delivered to your door. 
If preparing your own logs is worth the wait, this page will cover how to season firewood quickly. 
Wind and sunlight will speed up your firewood seasoning, especially if all sides of your woodpile are exposed to the elements. We'll get into how to dry wet wood fast, and how to dry firewood fast in later sections. Just know that loose wood stacks allow strong air flow. It doesn't matter if the stacks are a pyramid or a few straight rows as long as they're not too high. 
Looking for a shortcut? Drying wood in your microwave is safe and saves time for small, debarked pieces of wood. Use your microwave's lowest settings and place a paper towel beneath the wood to absorb moisture as it dries. If you're microwaving several pieces, space them out for even exposure. Only microwave the wood for 30 seconds, or one minute if you're drying hardwood. Protect yourself with work gloves when removing the wood. You should wait a few hours after microwaving before igniting the wood.
Firewood Drying Time Chart
Wood needs to be seasoned to burn properly and produce heat. When you buy firewood online from Haulstr, your logs are chopped, seasoned, and ready to ignite. To properly season your own firewood, you need to start anywhere between a season to a full year in advance. Here's how to speed up drying firewood. 
Different types of wood have different seasoning requirements. Softwoods only need about 6 months to season. They're cheaper, but you'll burn through them faster. Looking at a firewood drying time chart, these will be woods like fir, pine, spruce, and cedar. Hardwoods burn hotter, but this wood type needs a year or more to dry out. Think oak, ash, maple, cherry, and walnut. Obviously, for the fastest seasoning results, you need to know what type of wood you're working with (i.e. Haulstr delivers seasoned Indiana hardwood).
Climate conditions vary based on the time of year, so how to store firewood outside in summer will differ from how to store firewood outside in winter. Autumn tends to be too humid for proper seasoning if you're in a time crunch. A long, hot sun is best for drying out wood. So stacking your firewood in warmer seasons like spring and summer makes the most sense for a
winter-ready wood pile (we get into best practices in the next section). However, you will have to factor in your wood type to make sure it's seasoned properly. Again, 6 months for softwood, a year for hardwood. 
If you're drying firewood in winter for any portion of that time, you might ask, "Can I store firewood in my garage?". The safest answer is no. Wet "green" wood will attract pests. Even if your garage isn't attached to your home, you probably don't want those critters getting into your other belongings. Firewood can season safely outdoors, even in winter. Just invest in a tarp to protect it from snow. 
If you want to skip the time charts, order your seasoned firewood from Hausltr. We believe in serving our community with our business model. We donate $12 per rick for every firewood delivery order. Buying locally always helps to keep your community afloat by circulating hard-earned dollars within it. On top of that, our giveback model at Haulstr invests some of those dollars in nonprofit causes. You can support everything from animal shelters, school fundraisers, and community bikes. You can even refer your favorite local cause to inspire others, or register to become a nonprofit partner.
How To Store Firewood Outside
Stack your firewood in an out-of-the-way spot where you can eventually grab a few logs on a chilly night's notice. The out-of-the-way part is important because you don't want rodents, termites, etc. chewing through to your home, shed, etc. Take note of building codes for your neighborhood — fire safety is no joke, so know where you're allowed to place your wood pile. 
Logs exposed on all sides will dry the fastest, so give air a chance to circulate by separating your wood pile from walls and fences. Leave plenty of gaps between the stacks, too. The aesthetic of tidy, tight piles isn't worth the poor seasoning. At Haulstr, our wood is pre-cut, so it'll fit in perfectly symmetrical piles, easy to stack wherever you need. Because it's been quartered, it's already the most efficient size for you to haul off to your fireplace or campfire. 
Your woodpile should be stacked on a tarp or pallet to avoid contact with soil and allow more air flow. Log racks are also available to help with elevation, but concrete makes a solid substitute. An additional tarp is the best material to cover firewood, preventing rain and snow from soaking your piles while they dry out. Keep the ends of your pile exposed to preserve that open-air circulation. 
If you're toying with how to store firewood indoors, reconsider. A dehumidifier indoors can help, but you should always season your firewood outdoors when possible. The sunlight and wind exposure will speed up the drying process, and you'll avoid the possibility of insect infestations where you least want them. Even in a rainy climate, know how to cover firewood outside. Your best bet is storing firewood in a barn or shed where it can still get proper air circulation.
Which brings us to this point: Don't forget to factor in unpredictable weather conditions. If you need to dry firewood after rain, a low oven with a fan will do.
 Drying Firewood In Oven
How does drying firewood in oven work? Set your oven between 200-225 °F to help your firewood ditch the water weight. Just like drying wood in the microwave, give pieces plenty of space for even dehydration. Wood will catch fire at 500 °F, so hover well below that sweet spot and keep an eye on the temperature. A convection fan helps to avoid hazards and evaporate the moisture so the wood will be able to burn. 
All that being said, why is this important? What's wrong with damp logs? Well, all the heat you're hoping to get on a cold winter's night is being used to dry the log. So all you're getting on your end is chilly, uneven flames and a bunch of smoke. If you're using your logs inside, the buildup of smoke can cause a chimney fire over time. 
For that clean burn, there are a few additional drying methods. Drying firewood with a heater, drying firewood with a fan, and drying firewood next to stove have all been known to be fairly efficient. However, these methods are much slower and less effective than drying outdoors. These are really only methods you'd use if your outdoor logs got caught in the rain and you're in a pinch. 
Once you've chosen the best method for drying firewood, you are probably wondering, "how long does firewood burn?" It depends on the type of wood and whether it was seasoned properly. 
Here are a couple ideas on how to dry out firewood fast to get the most heat out of your logs. Split wood dries faster, so remove the bark as you see fit. Fall and winter are the best times to split because the wood will be less moisture dense. Split wood also discourages insects. If you are working with your own logs, remember they're easiest to cut when they're fresh, so get your firewood to the right size before you dry it out. 16 inches is about the perfect-sized log for loading into a stove.
Indoor Fire Wood
Seasoning means you're drying out logs, evaporating the moisture so the wood burns clean and quick. This process is harder to accomplish without fresh air. The best practices for when storing firewood inside? Don't do it. It doubles your drying time and invites rodents, insects, etc. The same goes for storing firewood next to your house, or drying firewood in your garage. It invites the pests to burrow through into your home. 
That being said, there are different ways you can store firewood indoors. Find a viable location inside the home for storage space. It needs to be off the floor and away from walls and doors. That means entryways are off limits. Instead, look to elevated, distanced spaces to complete the drying process. Creating a platform is highly recommended for how to store firewood to avoid termites. For example, log racks are perfect — they're aesthetically pleasing and raised. 
Ventilation is key to drying firewood indoors. Logs can quickly mold over in a dark, wet basement. Placing ventilators beneath your woodpiles can artificially season your logs. The downside here is if you're relying on firewood to save on your electricity bill, ventilation can actually drive up those costs. So it's more of a losing battle. Drying firewood with a dehumidifier is a cheaper alternative for this route. Just like piles left outdoors, you want to leave your wood bare, exposing the sides so moisture isn't trapped within the logs. 
If you'd prefer to avoid the hassles of how to best cover and store indoor firewood, order from Haulstr. Now more than ever, convenience and contact-free delivery are must-have offers. Haulstr's firewood delivery is built on simple scheduling, dependable deliveries, and community impact. Your bulk firewood order can help a local nonprofit or community organization. Haulstr's firewood delivery service also creates high-paying gig economy jobs for local drivers and landscapers. Many of our Haulstr drivers are veterans and first responders. So when you order from Haulstr, you're also purchasing with a purpose. If you have any questions or have a custom order request, contact us today and a team member will be in touch!
Homeowners love it
Pick the mulch you want, schedule a 1-hour window for delivery, and one of our Haulstars will be there to deliver your mulch.
I scheduled my mulch 3 weeks in advance, and it showed up on the hour. Best of all, my order helped our school raise money for our new PE equipment.
What an amazing experience. Mulch is such a pain to pick up, figure out how much to get—now I'm just a few clicks away every spring. Consider me a customer for life!
I'm a veteran, so when I heard that Haulstr was finding vets and first responders to drive, that meant a lot to me. My order was delivered correctly by a respectful off-duty firefighter.
Drive for Haulstr
Many Haulstr drivers are veterans and first responders. Who better to serve our customers than those who serve our country and communities? Join our team today.
Like us on Facebook for updates on organizations we're working with and to hear about additional services offered throughout the year.