Bulk Firewood Delivery
Delivering Mulch & Firewood to Support Local Causes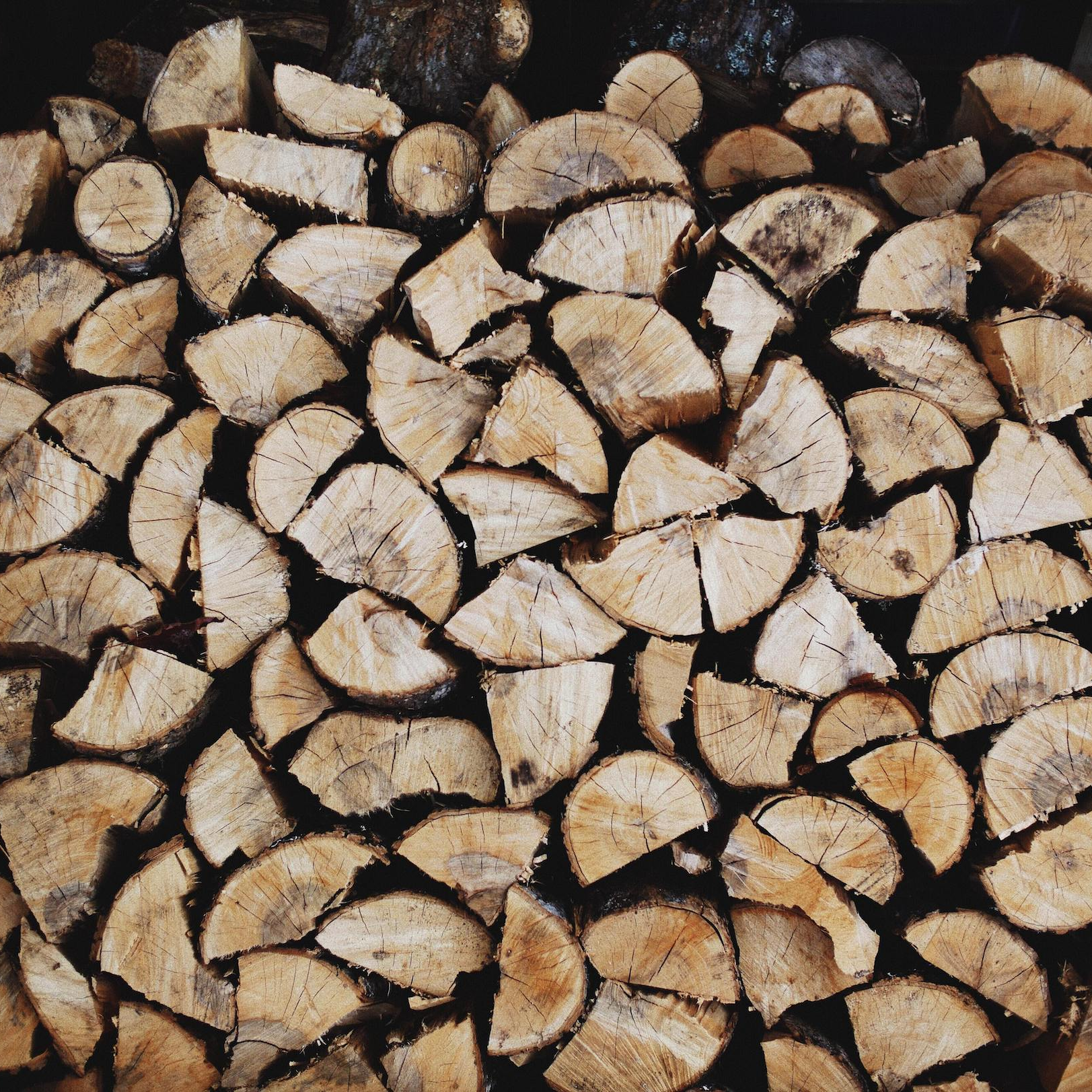 Firewood Delivery
Schedule your firewood delivery in a few clicks, and stay cozy all winter long. 
Landscaping & Patio
Create a backyard oasis with new mulch beds and plants or your dream patio.
Simple Online Ordering
Order today & schedule delivery for any date you like.
Bulk Firewood Delivery
Here's how easy it is to order bulk firewood delivery with Haulstr. With a few clicks, drop-off is scheduled on your time, straight to your driveway or yard. Just like our mulch delivery service, we keep things simple, fast, and efficient.
On any delivery date of your choosing, you can expect safe, no-contact firewood delivery from our local drivers. Our ricks of firewood stand at about 4 foot tall by 8 feet long and 16" wide. To make "local firewood delivery near me" as smooth as possible, we'll send reminders via text and email as your drop-off date approaches. We can even help with the unloading, which we know you'll appreciate deeper into the season as the days grow shorter and colder.
Just like our mulch model, Haulstr keeps everything local. Your bulk firewood is brought to you by the same drivers employed by our mulch delivery service, including your community's first responders (often vets and firefighters). The giveback doesn't stop there. When you search "firewood delivery near me," choosing Haulstr gives you the opportunity to support a community cause. Our "wood for good" program starts your order with a list of organizations to put your dollars behind. You can select from youth sports, animal rescues, cultural centers, and much, much more. As part of your bulk firewood delivery, proceeds from every order will be put toward your favorite nonprofit cause.
Ordering firewood in bulk saves you money in the long run. As a Haulstr customer, you will receive promo codes and sales throughout the year. That's savings on top of savings. And this isn't limited to your search for "bulk firewood for sale near me." Haulstr also delivers bulk mulch in the spring for your garden. So no matter the season, our online ordering model provides you affordable, quality products with unmatched convenience.
Firewood Near Me
Homeowners like you do not have to search far and wide for a "firewood delivery service near me." Rather than foraging out for bundles each time there's a dip in temperature, you can have split firewood readily available. In a winter storm or power outage, having huge ricks of seasoned firewood on hand is the fastest solution to deliver heat, comfort, and safety to your home. No more tree trimming. However, if you do have tree trimmings, we also offer a brush haul away service.  You don't even have to leave your home. You can abandon the search for "firewood pickup near me" altogether. And forget about hauling the wood into and out of your car.
Haulstr's firewood delivery service makes ordering online easy. We source local Indiana hardwood right to your door. Taking advantage of "firewood near me" through Haulstr is the most convenient way to get piles of fast-burning, long-lasting wood to your home. And you can be sure to avoid the cheap, wet wood, which means you can get cracking on that fire that much sooner.
Did we mention the logs are already split? As you search "split firewood for sale near me," you might find yourself asking "just what is split firewood? How does it differ from full logs?" This simply means our firewood has already been halved and quartered. We truly want to take all the labor out of this experience, so we have done the hard part for you. Haulstr offers perfectly peeling, pre-chopped, weathered wood. When you order split firewood from Haulstr, there's minimal effort in preparing your firewood for burning. All you need is the storage space to keep the wood dry.
So before you go down a rabbit hole of "firewood for sale near me," save time, money, and backbreaking work with our online ordering.
Bulk Firewood Near Me
By now, you already know a bulk firewood rate offers more wood, less cost, and fewer trips. So when you're searching "bulk firewood delivery near me," here's why it makes sense to order with Haulstr.
The full cost of "firewood in bulk near me" is built in, no surprises. This covers all the perks you enjoy about our service — the trucks, gas, tech, and convenient scheduling. All the time and labor we're saving you with an online purchase is made possible by that convenience and community fee. Our bulk firewood price offers total transparency, and we offer that transparency at every level of our business.
This includes the different types of bulk firewood for sale. At Haulstr, we offer seasoned Indiana hardwood. This means it's dried out just the right amount, perfectly primed for your fall fireplace. Quickly ignite your stack of logs for your bonfires, campfires, or a cozy evening in. You can order enough to burn all season long. And just like our drivers and the organizations we support with each purchase, the firewood itself is local.
Light fast, burn long. That's our goal with our bulk firewood. No wasted time, no smoldering, and an amazing solution to cut the cost of your heating bill. Hardwood is the quality you are after when you want long-lasting fire. Its density also makes it burn hotter than other types of firewood. Plus, our firewood is not prepackaged. It's raw and ready to go. We simply saved you from scavenging.
If you need large amounts of firewood and you're searching "bulk firewood near me," Haulstr online ordering is the way to go.
Firewood Supplier Near Me
Let's discuss firewood delivery services. We're not the only one out there. A quick search for "who sells firewood near me" will reveal many options for pickup. And another search for "firewood supplier near me" would point to websites where you can order a truckload of firewood for a full season's worth of wood burning logs.
But out of all the "firewood suppliers near me" that you will find in Indianapolis, Haulstr not only goes toe to toe with each of these options. Yes, we provide a speedy, efficient service just like they do. You don't need a truck, trailer, or moisture meter to ensure you are getting all that you need when you order bulk firewood through Haulstr. Our bulk firewood delivery is completely designed for your convenience. Anything these companies offer? We've got all their bases covered.
But this is where we've got them beat: our entire business model is built on giving back. So when you're trying to find "where to get firewood near me," you have the chance to better your community. Our true passion is to drive donations with every order. We believe in serving our community with our business so that we make an impact with each purchase. Learn more about how Haulstr gives back here.
We ensure our customers are getting top tier firewood for their homes. Our firewood is seasoned Indiana hardwood. Seasoned means that the wood has had time to dry, so it is easier to ignite. The process for seasoning calls for 1-2 years of drying out. When you order bulk firewood with Haulstr, there's no aging on your end. No waiting around for the moisture to dry, like you do with fresh-cut wood. Just a good, long burn at a moment's notice. If you're searching for "seasoned firewood delivery near me," Haulstr is a quality deal at a quality price.
Wholesale Firewood
Looking into wholesale firewood options in your area? That can cost you a pretty penny. It is especially important to get ahead of the winter price hikes, especially if you live in the city where wood doesn't exactly grow on trees. Wholesale firewood bundles can also be their own hassle. Tiny bundles involve a lot of back and forth, whether that's to the store, or to and from your car as you unload.
It is cheaper to buy firewood in bulk, and unlike other wholesale firewood distributors, Haulstr makes it easy with online ordering. We deliver mass quantities of firewood directly to your drop-off zone. We source from local suppliers as part of our community giveback model to ensure we are supporting local small businesses.
Another reason to ditch the wholesale supply? Ordering bulk firewood through Haulstr also means your order helps support a local cause of your choice. Here's how: For each firewood delivery, Haulstr donates proceeds from every order to a local cause. Haulstr helps several wonderful causes, putting power behind our "wood for good" model. By choosing us over wholesale firewood suppliers, you can support everything from animal shelters, school fundraisers, and community bikes. You can even refer your favorite local cause to inspire others, or register to become a nonprofit partner.
Burn logs, not dollars. For any wholesale firewood buyers, Haulstr is your best bet. If you have any questions or have a custom order request, contact us today and a team member will be in touch!
Homeowners love it
Pick the mulch you want, schedule a 1-hour window for delivery, and one of our Haulstars will be there to deliver your mulch.
I scheduled my mulch 3 weeks in advance, and it showed up on the hour. Best of all, my order helped our school raise money for our new PE equipment.
What an amazing experience. Mulch is such a pain to pick up, figure out how much to get—now I'm just a few clicks away every spring. Consider me a customer for life!
I'm a veteran, so when I heard that Haulstr was finding vets and first responders to drive, that meant a lot to me. My order was delivered correctly by a respectful off-duty firefighter.
Drive for Haulstr
Many Haulstr drivers are veterans and first responders. Who better to serve our customers than those who serve our country and communities? Join our team today.
Like us on Facebook for updates on organizations we're working with and to hear about additional services offered throughout the year.