Best Firewood For Fireplace
Delivering Mulch & Firewood to Support Local Causes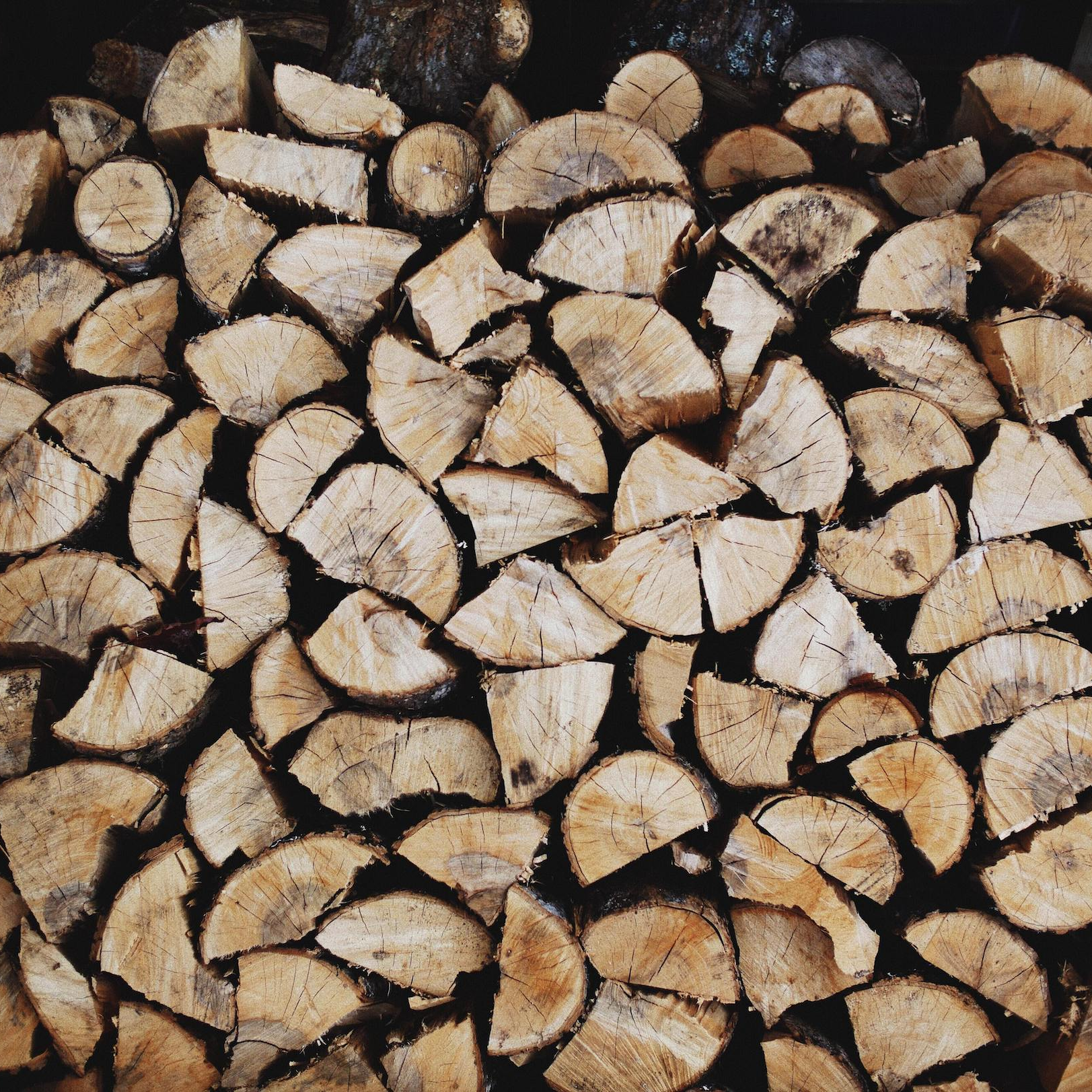 Firewood Delivery
Schedule your firewood delivery in a few clicks, and stay cozy all winter long. 
Landscaping & Patio
Create a backyard oasis with new mulch beds and plants or your dream patio.
Simple Online Ordering
Order today & schedule delivery for any date you like.
Best Firewood For Fireplace 
You want to spend your time around the fire focusing on your family, not fanning the flames. So when you're searching "best firewood for fireplace," it's best to go in with a bit of knowledge. That way, you leave no log unburned. For example, a best burning firewood chart would sing the praises of dense woods like oak and walnut, or point to a sweet smelling wood like apple or pecan. Softwoods crackle, spark, and smoke more than other woods, so these rank lower on the list. We've dedicated the rest of this page to these kinds of helpful tips to guide your choice.
When you've discovered the best firewood for your fireplace, Haulstr is your one-stop shop for firewood delivery. We offer homeowners the best types of hardwoods. As you're searching "wood for fireplace for sale," we want you to feel good about your choice of logs and your decision to shop locally. Not only is ordering firewood easy with Haulstr's online delivery — we drive donations to charitable causes. With every order, $12 per rick of firewood goes toward a local cause of your choosing. Whether it's for your hearth or your pit, Haulstr is your best option when searching "places to buy firewood near me."
Where To Buy Wood For Fireplace 
If you're not interested in gathering and seasoning your firewood, great news. There are plenty of options when you're hunting for "where to buy wood for fireplace." In a pinch, you can make a run to the home improvement store or gas station to buy a bundle. After all, you might only need four to six logs for a night around the fireplace.
But as you're looking for "firewood near me," you don't want to use treated or manufactured wood. Those wax logs you see at the grocery store come with coating, sealant, or paint. It's not entirely relaxing or healthy to be inhaling all the pollutants that get released as chemically-treated wood burns. When it comes to firewood, nothing beats natural. For a full season's worth of natural logs, you can save time and money by shopping for bulk firewood with us. Haulstr sells premium hardwood so you can enjoy a cozy fire night after night. There's nothing worse than a weak fire that dies down just when you've settled in. Our hardwoods are meant for robust, long-lasting heat and the least amount of smoke. When you choose Haulstr for "firewood for sale near me," you can stay present in conversations and cuddling.
Plus, ordering is fast. When you're looking for where to buy firewood, Haulstr provides easy online access. Just enter your address and you can find "where to buy firewood near me." We'll deliver right to your home. To add to that convenience, everything we sell is pre-split and ready for ignition. All of our firewood is locally sourced and seasoned. When you want to try your hand at finding your firewood, you can avoid waterlogged wood with our guide on How to Season Firewood Fast.
Types Of Firewood
Let's get into types of firewood. When you're sitting around the fire, you want a lot of heat, not a lot of smoke. And you want a long burn, not a low one. For all these reasons, you want to use dry, seasoned hardwood.
On the hotter end of the firewood chart, you have hickory, beech, and black locust. These are your best bet when you're looking to save on those energy bills. As you move along the "best firewood to burn chart," you'll run into oak and walnut. Dense and durable, you'll get your money's worth in intensity with these efficient hardwoods. Beech can be quick to rot and birch can be quick to burn — in both cases, you'll need a ready supply, which over time can start to add up to a higher cost. The moderate heat these hardwood logs provide is fine for ambient evenings, but they won't heat your whole house in winter.
As for needier logs, try to skip softwoods. Between creosote buildup and low heat, they're cheaper, but not worth the savings. Cedar, fir, and pine have more moisture content because they're full of sap. That equals a longer lighting time for a small smolder. Redwood and spruce also fall under this category. Poplar and chestnut are smokey, alder and spruce are too quick to burn, elder and fir fires are puny, and hemlock shoots off sparks. Eucalyptus is the worst firewood for your fireplace. Even with proper ventilation, it's better to use more suitable hardwoods rather than softwoods full of sticky, flammable resin.
The biggest drawback of hardwood can be how long it takes to season. At Haulstr, we supply a variety of seasoned hardwood, including oak, ash, cherry, and hickory. Our firewood is carefully split to the highest quality, guaranteeing fires that start fast and don't end early. Best of all, our selection of quality-grade logs is all locally sourced, ready for delivery.
Best Wood To Burn In Your Fireplace 
By now, we've discussed the different types of firewood suitable for burning in a fireplace. You know that burning dry, seasoned firewood will help you avoid spitting, hissing, sputtering. Choosing the best firewood to burn in your home will get you the biggest, warmest fire possible.
To make that selection process even easier, here's our list of firewood best to worst.
Great: oak, walnut, hickory, black locust, ash, beech, hawthorn
Good: apple, pecan, maple, birch, mulberry
Decent: blackthorn, cedar, cherry, pine
Poor: softwoods (poplar, chestnut, alder, spruce elder, fir, hemlock, aspen, eucalyptus)
Our good and great firewood options are classic hardwoods, quick to catch and long to burn. Close behind, you'll have decent varieties. You might be better off mixing these options with higher-tier firewood to get more heat with less effort. Firewood in this category will still provide solid output for long, cozy evenings, but these options tend to spark. This makes them better suited for a wood stove or the great outdoors rather than a fireplace. If the best smelling firewood is part of your ranking criteria, we've got you covered. When you prefer a bonfire aroma, stick to hickory. For those sweeter smells, look to apple, pecan, and cherry firewood. Cherry tends to run a bit smokey out of season, so keep that in mind before you throw it on the hearth.
You don't have to search further than Haulstr for the best wood to burn in your fireplace. We deliver top-quality firewood right to your home, specializing in pre-split, pre-seasoned hardwood logs. From oak, ash, cherry, and hickory, we sell logs with the highest heat value and the quickest ignition. With Haulstr, you're getting the best of the best, so you never have to question "where to get wood for fireplace."
Best Firewood For Fire Pit
Prefer to pair your logs with crisp night air? Sturdy hardwoods are made to burn hot and long for that slow, steady fire you crave on a chilly outdoor evening. Think hearty tree, hearty fire. For the best blend of heat and fragrance, get logs from fruit trees like apple and cherry. These woods are even flavorful if used for cooking, and make the best smelling wood for your fire pit.
Chemically-treated logs are better for an open-air campfire, but the pollutants still run the risk of irritating your lungs as you roast your s'mores. The sap and resin in softwoods that cause smokey, sparky campfires also aren't as dangerous outdoors, but they're not the best wood to burn in fire pit due to their moisture content. The more moisture a wood retains, the harder it is to light and the less intense the flame will be.
For that reason, don't use freshly cut wood for your bonfires — even hardwood varieties. Burning wet wood wastes energy, including your own. The hard part isn't just in getting a fire started, it's also in keeping it going. Unseasoned logs aren't dry enough for an easy, ongoing tinder, so even if you get fresh, green logs to light, you won't enjoy the tall, toasty flames you get with seasoned hardwoods.
As you're searching "where to buy wood for fire pit," look no further (or closer) than Haulstr. We offer local hardwood, the ideal low smoke wood for fire pit. Our premium selection is great for both indoor and outdoor use. Our suppliers ensure our logs have had plenty of time to dry out in the open air. And don't forget: every purchase is made with a purpose with Haulstr. Our giveback model is incorporated into our business, donating $12 per rick of firewood towards a meaningful cause of your choosing. Contact us today and we can help with any questions or assist with an order.
Homeowners love it
Pick the mulch you want, schedule a 1-hour window for delivery, and one of our Haulstars will be there to deliver your mulch.
I scheduled my mulch 3 weeks in advance, and it showed up on the hour. Best of all, my order helped our school raise money for our new PE equipment.
What an amazing experience. Mulch is such a pain to pick up, figure out how much to get—now I'm just a few clicks away every spring. Consider me a customer for life!
I'm a veteran, so when I heard that Haulstr was finding vets and first responders to drive, that meant a lot to me. My order was delivered correctly by a respectful off-duty firefighter.
Drive for Haulstr
Many Haulstr drivers are veterans and first responders. Who better to serve our customers than those who serve our country and communities? Join our team today.
Like us on Facebook for updates on organizations we're working with and to hear about additional services offered throughout the year.