Seasoned Firewood
Delivering Mulch & Firewood to Support Local Causes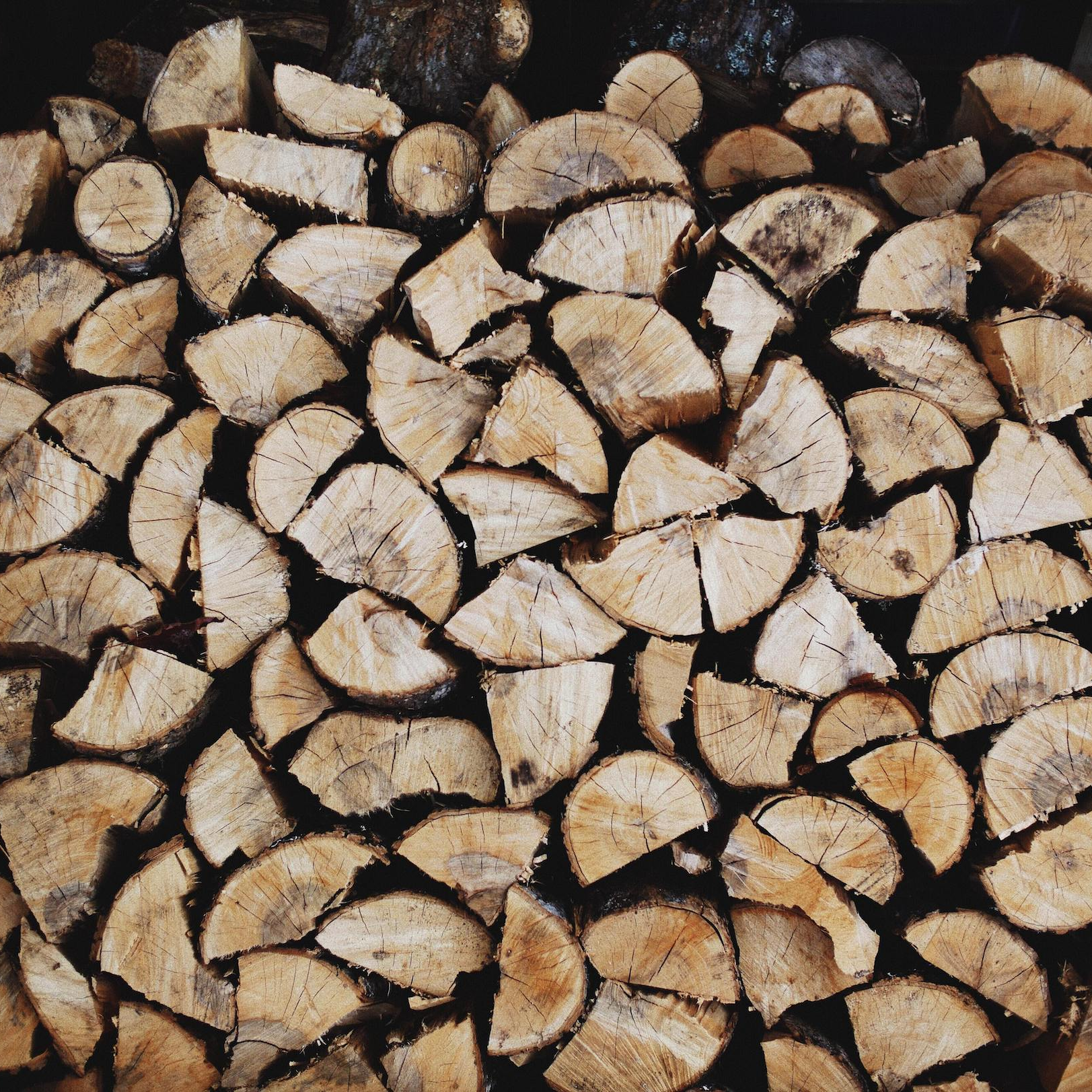 Firewood Delivery
Schedule your firewood delivery in a few clicks, and stay cozy all winter long. 
Landscaping & Patio
Create a backyard oasis with new mulch beds and plants or your dream patio.
Simple Online Ordering
Order today & schedule delivery for any date you like.
Seasoned Firewood 
Seasoning firewood can take anywhere from six months to a year, depending on the wood type and species. But Haulstr logs are ready to light. With us, you're getting top-quality seasoned firewood. You don't have to go searching "seasoned firewood near me" to find a bulk firewood supplier that can service your area. Everything about Haulstr's offering of seasoned firewood for sale is local, from our Indiana hardwood to our delivery drivers, and even the nonprofits we donate to with a portion of proceeds from every order.
Top two reasons why the process of seasoning firewood is important: safety and efficiency. You need as much moisture as possible to evaporate from your logs so they burn quickly, evenly, and for a long time. For obvious reasons, wet wood doesn't ignite as well, and it releases a bunch of smoke and ash when the fire does catch. In other words, your logs gotta season so they sizzle. An added bonus? Once your firewood is seasoned, it'll be a lot lighter to carry because it's lost all that water weight.
It's simple. Enter your address to start your order for "firewood near me" to get premium firewood delivered right to your home. It's all just a few clicks.
All Seasoned Firewood 
Nothing ruins the ambiance of a toasty evening like wet log. For a long-lasting fire, all the tree cells and sap that make freshly cut wood heavy and damp need to evaporate in a process called seasoning. In order to do this efficiently, your woodpile needs to be stacked just so. Your logs need enough air space between them to dry out, and the stack itself must be elevated to avoid absorbing soil moisture. If it's exposed to the elements, you'll also want to invest in a tarp.
The next part is measuring seasoned firewood moisture content. It's pretty easy to recognize all seasoned firewood because when it dries out, its bark will be loose, cracked, and grey. But getting to that point requires some time and effort — about six months to a year or longer. Shorter piles will dry faster. You'll want to place your oldest, driest logs on top. They'll burn the quickest and pitching them first gives them less opportunity to rot. You can completely forgo all the steps it takes for firewood to be well-seasoned and all the worry about doing it correctly. Just buy seasoned firewood from Haulstr. Our supplier spends all year long seasoning firewood to ensure top-quality firewood for our customers. No foresight or patience required on your end. Our firewood source is completely local. We work with local suppliers, local drivers, and give back $12 per rick to local nonprofits with every order. These charitable causes include schools, sports teams, arts programs, and much more. Best of all, you get to choose where your dollars go.
Which brings us to the last piece of the puzzle: how much is firewood from Haulstr? We charge $110 a rick, plus $75 for delivery. Included in that price is peace of mind. You don't need to focus on what all goes into seasoned firewood, you just get to experience the desired outcome: a beautiful burning fire. For quantity recommendations, call our experts or see our page on a Rick vs. Cord of Firewood.
Kiln Dry Firewood 
Seasoning doesn't involve a ton of labor. It's mostly a protected woodpile and a keen eye for detail to ensure the logs are healthy and that the drying is consistent. You might rotate a log every once in a while, but seasoning is kind of the equivalent of watching paint dry or grass grow. While drying out is how you season firewood the natural way, you can expedite the process with kiln dry firewood.
A kiln forcibly removes your wood of all that moisture content so you can get to the good part: a roaring fire. Depending on your kiln, you can have fire-ready logs with 3-6 days, any time of year. The drying is more controlled than the open-air exposure of traditional firewood seasoning, so the logs are guaranteed to be quick-burning. Keep in mind when you're searching "kiln dried firewood near me" that the convenience of baking makes these logs more expensive than seasoned firewood. Seasoned firewood is also more environmentally friendly compared to kiln-dried because its natural preparation doesn't require all the energy needed to heat a chamber. It's also possible that a kiln can overcook your logs, and if the wood is too dry, it won't provide a long-lasting burn. Kilns also tend to be reserved for softwoods, which aren't as efficient for an enduring fire.
There's no need to spend extra when you can spend locally. Especially because if speed is what you're after, you can always shop Haulstr hardwood with just a few clicks. Haulstr's firewood supplier ensures your logs are well looked after right up until the moment they're delivered to your doorstep. With online ordering, you can leave the seasoning to the experts and simply have any dry firewood for sale delivered. Adding to the ambiance of your open flames is the knowledge that nothing about your logs is artificial.
Who Sells Firewood Near Me 
If we've sold you on the benefits of seasoned firewood, the last step might be searching "firewood for sale near me." So, there's a few obvious sources of firewood in your area. There's always the sad little woodpiles at the gas station, or even Home Depot firewood if you're feeling like a city slicker (and don't mind driving through the winter slush to load up a few backbreaking bundles). And sure, you could fell a few trees around your own property and chop the logs yourself when you channel your inner lumberjack. But even then the wood also has to be properly stored for at least half a year of seasoning. Wouldn't you rather skip all that and bundle up next to a fire when the mood and chilly airstrike? 
When you're looking for "split firewood for sale near me," Haulstr makes it a seamless process for anyone to schedule their firewood delivery. We offer a huge variety of hardwood, including oak, ash, cherry, and hickory. And getting our gorgeous, seasoned selection of firewood delivered is as easy as this:
Visit www.haulstr.com/order. 

Type in your address.

Select your favorite wood and how much you need.

Choose a delivery date.
Sound simple enough?
As you're weighing the pros and cons of "who sells firewood near me" remember this: Haulstr not only delivers firewood but also gives back to charitable causes. Out of all the "firewood companies near me" that you'll find in your internet browser, you won't find one as dedicated to your dollar as we are. Not only are you getting a grade-A product, but you're also getting the satisfaction that you're supporting your community with a donation of $12 a rick to a local nonprofit.
Seasoned Firewood Delivery Near Me
The biggest benefit of seasoned firewood is that instant ignition. It's disappointing and maybe even downright embarrassing to unsuccessfully try to light a log. Especially when you foraged for the wood yourself, or even ventured out into the winter gloom to buy a bundle. And especially when your family and friends are crowded around waiting for the heat. When you're looking for "firewood delivery near me," you want it fast. And you want reliably seasoned logs, dried out and ready to roar. We've got nothing against hard work. In fact, we're such big fans, we'd like to do the hard work for you.
Haulstr is your best bet when you're looking to have "firewood for sale near me delivered." When you're paying top dollar for premium seasoned firewood, we believe you shouldn't be supplementing it with newspaper, toilet paper, or any other add-ons. Our bulk firewood delivery can be used the day it arrives, and it can power a full night of flames all on its own. Plus, we can get it there quickly. We're all about local: local drivers, local suppliers, local customer service, local trees. When you're searching "seasoned firewood delivery near me," we could not be closer. Our commitment to our neighborhoods goes even further. We feed everything back into the community through our donations to inspirational causes and by hiring first responders as our delivery drivers. And if you subscribe to our mailing list, we offer residents the best sales and deals.
So to recap, Haulstr is regional hardwood delivered by your town heroes at an already-better rate than buying by the bundle. You're saving the environment by skipping the plastic and pollution of shipping and/or the energy consumption of a kiln. And if you're a regular customer, you get great discounts. Put all that together? We'd say you nailed it.
Contact us directly, and we can help with any questions or assist with an order.
Homeowners love it
Pick the mulch you want, schedule a 1-hour window for delivery, and one of our Haulstars will be there to deliver your mulch.
I scheduled my mulch 3 weeks in advance, and it showed up on the hour. Best of all, my order helped our school raise money for our new PE equipment.
What an amazing experience. Mulch is such a pain to pick up, figure out how much to get—now I'm just a few clicks away every spring. Consider me a customer for life!
I'm a veteran, so when I heard that Haulstr was finding vets and first responders to drive, that meant a lot to me. My order was delivered correctly by a respectful off-duty firefighter.
Drive for Haulstr
Many Haulstr drivers are veterans and first responders. Who better to serve our customers than those who serve our country and communities? Join our team today.
Like us on Facebook for updates on organizations we're working with and to hear about additional services offered throughout the year.