Mulching Tips and Tricks
Delivering Mulch & Firewood to Support Local Causes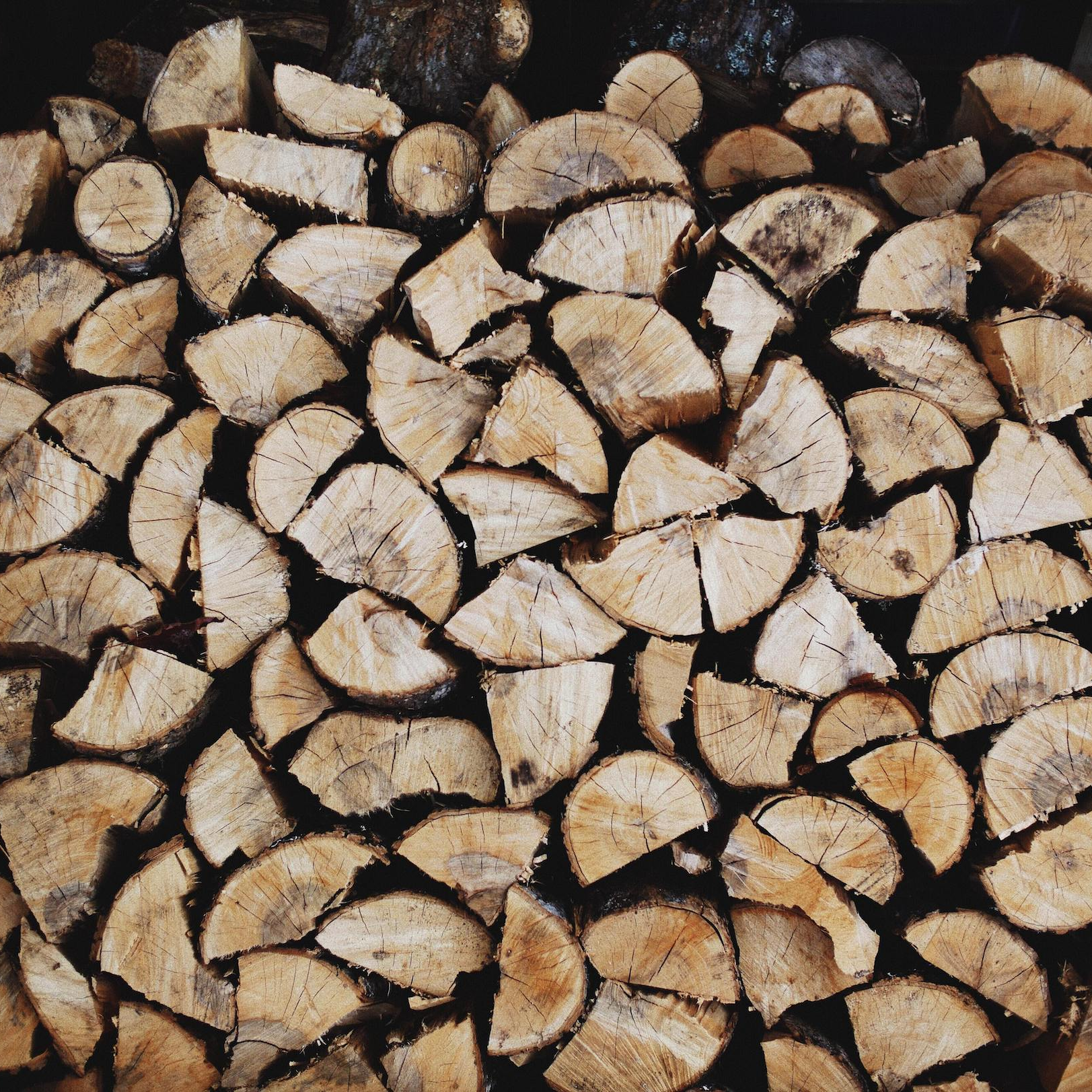 Firewood Delivery
Schedule your firewood delivery in a few clicks, and stay cozy all winter long. 
Landscaping & Patio
Create a backyard oasis with new mulch beds and plants or your dream patio.
Simple Online Ordering
Order today & schedule delivery for any date you like.
Mulching Tips And Tricks 
First things first: know why you're mulching. Mulch retains moisture. In dry months, this helps avoid frying your plants or drying up your soil, and making it inhospitable. In winter, the insulation from mulch keeps your plants from freezing. But because plants have different needs, it matters what kind of mulch you use.
That might lead you to ask, "what is mulch made of?" The short answer is organic matter. The longer answer might include any type of yard leftovers, such as grass clippings, straw, leaves, wood chips, etc. You can also find less environmentally-friendly mulch substitutes, like rubber or fabric. These synthetic mulches won't need to be reapplied every season, but they don't have any nutritional value for your plants. They can also overheat, drying up plant beds.
With all those types, which is the best mulch for trees and shrubs? Bark and wood chips will be your affordable go-to (the bread and butter of Haulstr). These mulch types break down over time, adding to your soil's fertility and acting as padding. Both benefit your plants by way of a sturdy, nutrient-dense foundation. Plus, these mulch types smother weeds.
Once you know your type, there are a few tried-and-true mulching tips and tricks:
Do a bed cleanout. Gather up those trash bags and get rid of all the weeds, branches, and existing debris surrounding your plants. (Haulstr can do a

brush haul away

for you.)

If you're using dyed mulch, lay out a tarp for dumping. Dyes can stain surfaces, like your concrete driveway.

Next:

how deep should mulch be?

Stick to 2-4 inches to keep your plants in place. As for

how to mulch around trees and shrubs

, less is more. Start 5 inches away from the base (or trunk, as the case may be). For all plant types, you'll occasionally need to replenish your piles. Replace your mulch annually.

Depending on your type of mulch, you'll have different marching orders post-installation. For dyed varieties, allow a full day of dry, sunny weather to give the mulch the best chance of retaining its color. For natural mulch, give it a good rinse afterward.
Prefer to leave it to professionals? Our local landscapers can handle your mulch delivery and installation.
Mulch Types, Advantages Disadvantages
So if there are different types of mulch available, that indicates there are types of mulching. This also means there's such a thing as the best and worst mulch for your project.
Fresh, natural mulch is the best mulch for gardens because it integrates with your soil. This is what we offer at Haulstr. Our products are made from decomposed tree trimmings (local Indiana hardwood) with a trace of horse manure. The bark and wood chips we mentioned earlier? We're all about it. Our bark-based mulch is more for the garden pros (larger pieces, fewer weed seeds). But the all-natural ingredients in both our mulch types enrich your soil with important nutrients, helping your plants grow up healthy and happy.
That's actually why wood mulch is the most commonly used type for residential yards and gardens. It's cheap, safe, and makes for a gorgeous plant bed. It's less likely to get tossed around in inclement weather. If termites are a concern, hay and pine are natural mulch alternatives and they're great for weed suppression. So when you're searching "best mulch for vegetable garden," these are your best bet, though pine should be reserved for plants that prefer acidity.
With that in mind, each mulch type has its strengths and weaknesses. Here at the most common advantages and disadvantages of using mulch:
Advantages:
Retained moisture

Consistent soil temperature

Weed suppression

Beautiful landscaping

Less gardening
Disadvantages:
Attracts pests

Suffocates plants if applied incorrectly

Dye chemicals can damage plant roots

Prevents sunlight from warming seedbeds
Haulstr's hardwood mulch is 100% natural, dyed with nontoxic colorant, and pet-friendly, so you can expect the everyday advantages and more. But on top of those benefits, here's why Haulstr is the best mulch brand you can buy. Shopping bulk mulch with Haulstr prevents wasting major plastic through bagless delivery. It's also sourced from local suppliers, so your purchase fuels your local economy. Plus, when you order your bagless mulch through Haulstr, you're also donating back to your community. The proceeds from your purchase will be donated to support a local cause.
How To Mulch Flower Beds 
Here's how to mulch flower beds. For starters, your flowers should already be growing. Seeds need sunlight to sprout, so avoid mulching too early and burying any chance they have for survival. "Too early" can also apply to the rainy season. You don't want a weekend's worth of mulching labor to wash away (or a tarp's worth of dyed mulch to stain your driveway).
Next, pay attention to pile height. Everyone loves a tidy appearance for a great-looking garden, but it's more important to make sure water and oxygen can get to your flowers' roots. After all, a great-looking garden has living plants. A 2-4 inch mulch pile provides proper drainage, and starting your mulch pile three inches away from your flower base allows air to circulate (veggies are the opposite; they prefer tight packing for extra moisture.).
Okay, you've primed your plant beds. You know how much mulch to add to them. But what is the best mulch for flower beds? No surprises here. The best mulch for flower beds is once again the organic varieties. The chemicals and dyes from synthetic mulches can seep into your plant roots and stunt their growth. So all of your flower bed mulch alternatives will include the mulch types we've mentioned in other sections. Again, save the leaves and pine for when acidity will serve you. But as for the best mulch for perennials, we'll recommend the wood types.
To determine the best mulch type and strategy depends on what you grow and where you grow it. Talk to our landscaping experts for advice.
How To Spread Mulch
Let's talk about best practices. When looking for the best tool to spread mulch, choose a pitchfork or rake over a shovel. The tines make it easier to fluff the mulch and move it around (this will come in handy if your mulch develops mold in the future). When you're asking how to spread mulch from a bag, you're looking for shortcuts. A wheelbarrow can help with quick, painless mobility.
The most important tidbit in how to spread mulch: don't over mulch. Most mulches should be applied about 2-3 inches. We recommend 3-4 for our mulches, but don't be tempted to pack that layer too high. Too much build-up and your soil will have a poor flow of air and water. Waterlogged plant beds cause your soil's bacteria to attract diseases, pests, and rodents. But with the right sturdy mulch base, your soil is less likely to erode. This protects shallow roots and prevents plants from washing away.
This brings us to our next point: Rain, wind, and foot traffic can cause the mulch to blow away or tumble downhill. Edging is the simple answer for how to keep mulch in place. Essentially a buffer, this can be a trench dug around your plant beds or a protective barrier of stones, short border plants, etc. built around them. You can also place netting over your mulch to prevent its migration, or terrace sloped areas for extra stability. Heavier mulches are less likely to slide. Ditto for finely shredded types that don't involve lots of loose pieces. While landscaping fabric is effective in how to keep grass from growing under mulch, the smooth surface won't hold mulch in place. Defined edges solve both problems. Haulstr includes edging in our list of installation services to keep mulch from drifting and smother grass growth.
In fact, if you don't want to risk spoiling your plant beds, Haulstr can handle all your mulch installation for you. Haulstr provides both mulch delivery and installation options so our customers can sit back and relax after ordering online.
How To Mulch Around House 
Let's button up those final Q&As on how to mulch around the house. Most mulch disadvantages — acidity, insects, plant rot, etc. — stem from the incorrect application. So researching the type of mulch that best suits your yard, and/or having professional landscapers (like the ones employed by Haulstr) handle the mulch installation will save you a lot of extra gardening.
If you opt for organic mulch, "Should I remove old mulch?" will cross your mind. Each season, it's best to refresh your mulch so it doesn't lose its effectiveness, or worse, invite pests and disease. This leads us to our next question: what to do with old mulch. You can compost it or throw it away, whatever weighs easier on your soul. We have a whole guide on How Long Mulch Lasts and why you'll want to do so.
To avoid replacing mulch, there are alternatives to mulch around the house: river rock, soil, and more. Unless you're raising alpine flowers, rocks aren't aiding your plant growth. They also tend to overheat. Think in terms of longevity: less temperature fluctuation provides your plant's stability and the best chance of survival. Color is a preference (and most often an expense). But as we've mentioned the right mulch texture can improve stability, and the right mulch materials can add nutrients to the soil.
Haulstr does take custom orders outside of mulch such as topsoil, rocks, plants, and more. You simply have to contact our team to get your custom order started. Best of all? At Haulstr, we believe in serving our community with our business model. We're talking major impact. Just like you're making your home a better place to live by installing mulch, you're making the wider community a better place to live by supporting local suppliers and nonprofits. And a portion of your order also goes toward a community cause, promoting enrichment and wellness where you live.
Homeowners love it
Pick the mulch you want, schedule a 1-hour window for delivery, and one of our Haulstars will be there to deliver your mulch.
I scheduled my mulch 3 weeks in advance, and it showed up on the hour. Best of all, my order helped our school raise money for our new PE equipment.
What an amazing experience. Mulch is such a pain to pick up, figure out how much to get—now I'm just a few clicks away every spring. Consider me a customer for life!
I'm a veteran, so when I heard that Haulstr was finding vets and first responders to drive, that meant a lot to me. My order was delivered correctly by a respectful off-duty firefighter.
Drive for Haulstr
Many Haulstr drivers are veterans and first responders. Who better to serve our customers than those who serve our country and communities? Join our team today.
Like us on Facebook for updates on organizations we're working with and to hear about additional services offered throughout the year.