Bagged Vs Bulk Mulch
Delivering Mulch & Firewood to Support Local Causes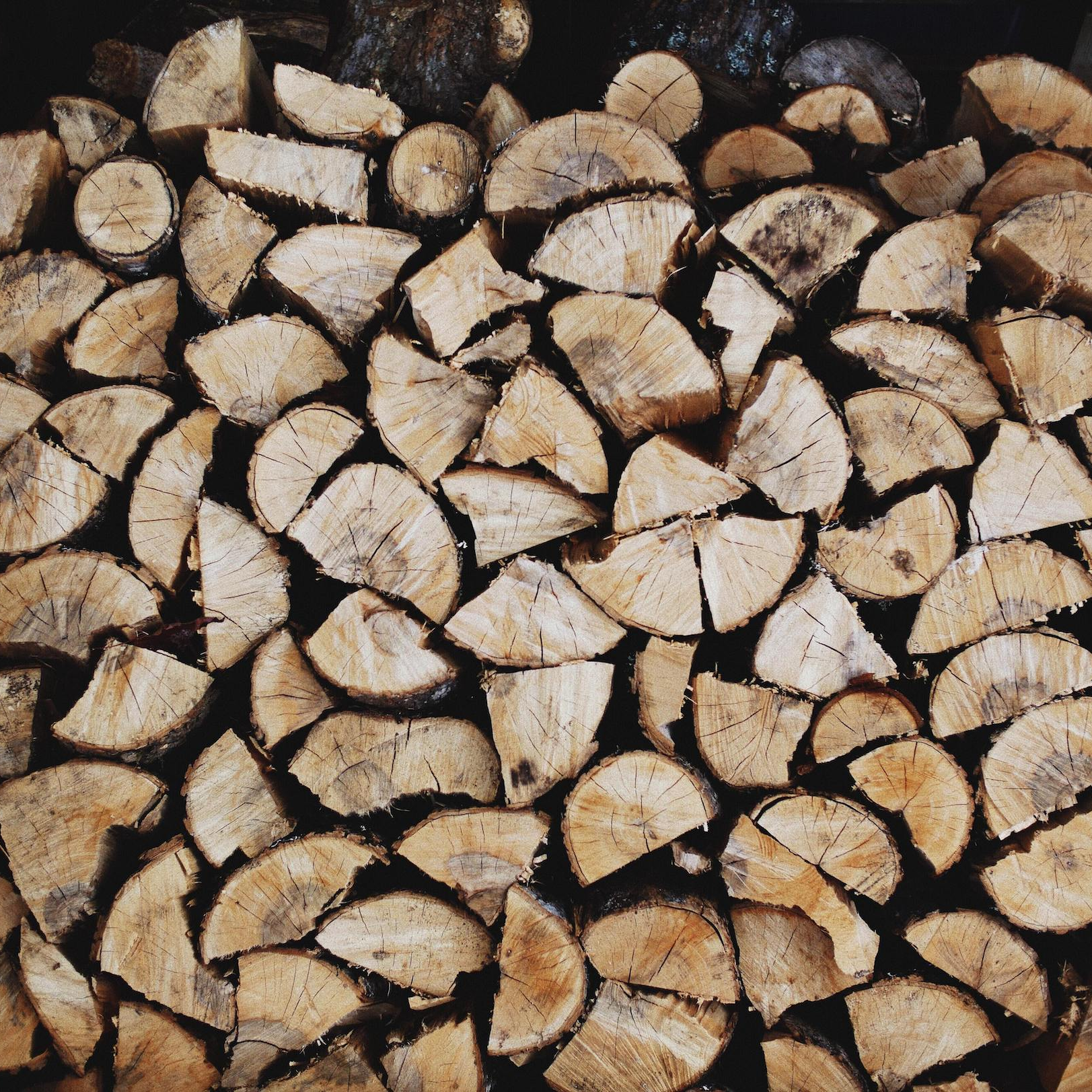 Firewood Delivery
Schedule your firewood delivery in a few clicks, and stay cozy all winter long. 
Landscaping & Patio
Create a backyard oasis with new mulch beds and plants or your dream patio.
Simple Online Ordering
Order today & schedule delivery for any date you like.
Bagged Vs Bulk Mulch
Buying bagged mulch can be more hassle than it's worth. Having to find a truck, load the bags, unload and dispose of all the plastic waste.
There are undeniable benefits with bagged mulch. For example, you don't need shovels and wheelbarrows to haul the mulch around your yard. You can carry it where you need it. You'll need storage for the leftovers, but that means you don't have to install the mulch all in one go. You can space out the labor and save it for later — maybe even for next season. Bagged mulch is also easier to buy smaller quantities, which may be the cost-effective route when you need different mulch for different types of plants
However, in the battle of bagged vs bulk mulch, there's undeniable factors as to why bulk mulch is better. The main draw? Bulk mulch prices. Bulk mulch is the cheaper alternative when you need more volume for less cost. There are no hidden fees or charges when you order bulk mulch from Haulstr.
We're talking $30-$36 per yard on average vs. $3-$6 per bag. The average household needs about 81 plastic bags to cover six yards, so bulk mulch saves you a ton in extra mulch and dollars. If you want premium, long lasting, sturdy mulch that won't blow away, you're looking at $40-$47 per yard compared to $4-$7 per bag.
So skip trying to figure out "how many bags of mulch fit in a pickup." Haulstr makes ordering bulk mulch easier with our online booking system. To order "mulch near me" with Haulstr, select a local cause to support with your order (i.e. nonprofits, schools, and more) then schedule contact-free delivery. It's when you want, where you want. And unlike wholesale mulch suppliers, we work with local mulch suppliers in the area. So instead of trying to search "mulch bulk near me," you can order through Haulstr.
How Many Bags Of Mulch In A Yard 
Just how much is a yard of mulch? When you're buying in bags, here are the measurements you need to know.
You have to think of mulch volume in cubic yards. In other words, to figure out how many bags of mulch in a yard, you'd have to think how much mulch would fit in a cube. For a yard of mulch, that cube would be 3 feet long on each side. Bagged mulch typically comes in 2 cubic foot bags, and there are 27 cubic feet in a cubic yard. So if we do a bit of mulch math, that means you would need about 13.5 bags of mulch in a cubic yard. Remember: that's about 81 plastic bags for six yards.
Buying mulch in bulk can seem overwhelming. When you start picturing huge piles, you might picture huge costs. But Haulstr has a mulch calculator to help figure out exactly how much mulch you need so you don't overshoot it. Rather than calculating "how many 1.5 cubic feet bags of mulch in a yard," we also have landscaping experts on the line to help you figure it out. You don't even need to worry about how you're going to get it spread. In addition to bulk mulch delivery, Haulstr offers professional mulch installation using local landscapers.
Bulk Mulch Delivery
When you go bagless, here's how easy it is to schedule "bulk mulch delivery near me" through our website. Haulstr provides a helpful mulch calculator to estimate how much mulch you need for your order. No formulas, just answers. Again, we're all about simplifying so there's nothing labor-intensive about mulch delivery or installation on your end. That includes making it easy for customers to determine which products are available in your location. All of our options are local Indiana hardwood.
Then, with just a few clicks, you can tell us where to drop it off. From the moment you see mulch on our site to the moment you see it in your garden. We're there every step of the way. You will receive real time updates of your delivery. Simply mark the dumping area with a tarp — you don't even need to be home. With the size of our trucks, we have a few exceptions for steep driveways, tight spaces, or busy roads. Other than that, we're completely reliable. Haulstr even delivers mulch during light to moderate rain unless you reschedule.
You no longer need to search high and low for "bulk mulch suppliers near me." We're bringing homeowners the exact product they would find at local suppliers. We'll even do bed clearing, mulch installation, and edging.
Reservations are limited, so please book early. We try to make mulch delivery as painless as possible for people searching "bulk mulch near me," so you can reschedule within 24 hours of your install week. Don't worry. We don't charge anything until your mulch is delivered.
Bagged Mulch
If you're still considering "bagged mulch near me," maybe it's time we dive into the cons of getting bagged mulch delivered (and why you should go bagless).
Again, if we think about how many bags in a cubic yard, 13.5 plastic bags are thrown away for every cubic yard of mulch. An average household requires six cubic yards…meaning by that same metric, 81 bags would be wasted.
And with all that extra mulch, you might try to use it up to get your money's worth. But if your mulch layer is too deep, it'll prevent water and air from getting where they need to go. You only need 2-4 inches of mulch for a rich, productive layer. It's a little less for perennial beds (1-2 in.) and a little more for trees (3-4 in.) Don't risk smothering your plants with Home Depot bagged mulch or Lowes bagged mulch to justify the cost and/or avoid leftovers. Instead, order bulk mulch delivery from Haulstr to get the exact amount you need, then let our experts handle installation.
Haulstr's bulk mulch reduces major plastic bag waste. We deliver local mulch to your door, which means we also skip out on all the transportation and packaging damage done to the environment that's caused by the sourcing and shipping of bagged mulch.
Bagged mulch is more trouble than it's worth, and not just in cost. Bagless bulk mulch makes it fast and easy to improve your local economy and the environment. And on top of that, you avoid splitting and spreading that mulch all day long.
Best And Worst Mulch
Now that you know you're better off buying bagless, let's compare the best and worst mulch.
It's important to choose your mulch type for your end goal. This will vary with the type of plant, type of weather, etc. A shredded hardwood is the best wood mulch. It'll work in most climates for most gardens. At Haulstr, we have classic hardwood mulch to help you cover large areas in the most economical way possible.
Around trees, you'll want bigger, chunkier mulch nuggets, like you see with pine. They'll last longer and be harder to blow away when there's a lot of rain or wind. At Haulstr, we offer bark blends for serious gardeners who don't mind a bit more weeding.
Flower beds require a finer mulch, which breaks downs over time to add nutrients back to the soil. These mulch varieties are less coarse, holding their color longer. Haulstr has several colors available. Mulch color doesn't indicate quality, just style. Brown mulch is the undyed variety, while black mulch is popular for a sophisticated look.
With all our mulch types, we advise you on the appropriate depth. We even provide care instructions, like how much and how soon to water your plants after the mulch spread.
We partner with local mulch suppliers to provide the best quality mulch in the area. Haulstr's hardwood mulch is 100% natural, dyed with nontoxic colorant and pet friendly. Haulstr mulch is sourced from where you live, so you know it's good for your plants and relevant to your needs. From your plants to your community, to the environment at large, Haulstr is the best mulch brand.
And here at Haulstr, your mulch purchase has a larger purpose. We incorporate our giveback model with every order placed. A percentage of every yard purchased donates back to local causes. You won't get that with Home Depot mulch or Walmart mulch.
Homeowners love it
Pick the mulch you want, schedule a 1-hour window for delivery, and one of our Haulstars will be there to deliver your mulch.
I scheduled my mulch 3 weeks in advance, and it showed up on the hour. Best of all, my order helped our school raise money for our new PE equipment.
What an amazing experience. Mulch is such a pain to pick up, figure out how much to get—now I'm just a few clicks away every spring. Consider me a customer for life!
I'm a veteran, so when I heard that Haulstr was finding vets and first responders to drive, that meant a lot to me. My order was delivered correctly by a respectful off-duty firefighter.
Drive for Haulstr
Many Haulstr drivers are veterans and first responders. Who better to serve our customers than those who serve our country and communities? Join our team today.
Like us on Facebook for updates on organizations we're working with and to hear about additional services offered throughout the year.