Gas Fire Pit Installation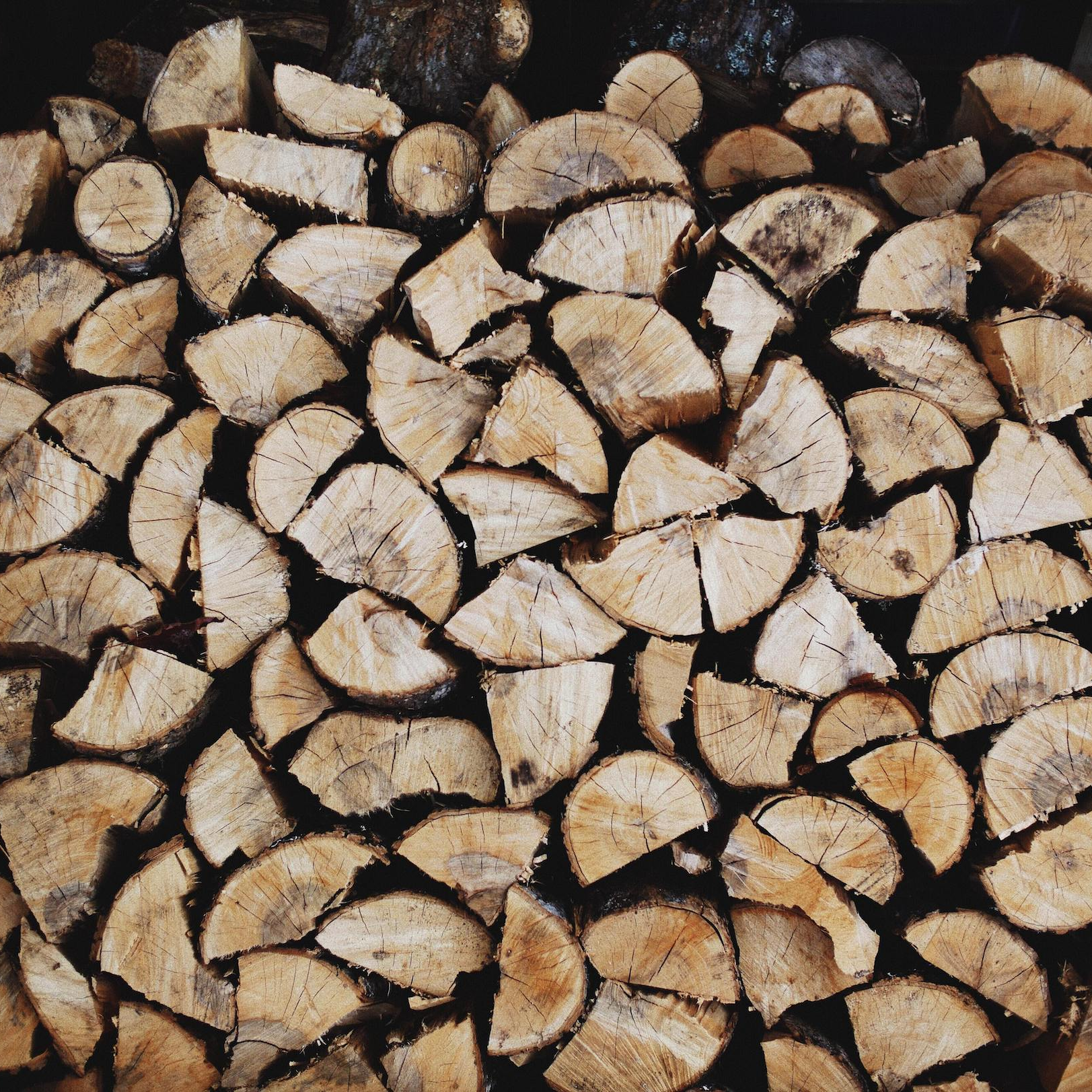 Firewood Delivery
Schedule your firewood delivery in a few clicks, and stay cozy all winter long. 
Landscaping & Patio
Create a backyard oasis with new mulch beds and plants or your dream patio.
Simple Online Ordering
Order today & schedule delivery for any date you like.
Gas Fire Pit Installation
Fire pits can be a wonderful way to bring the cozy of the indoors into an outdoor living area. Covered patios and custom backyard spaces are great, but for people who live in an area that is seasonally affected – like Indiana – the space is unusable for half the year! Unless you're a polar bear, that is. A gas fire pit installation is just the thing to get even more use out of your outdoor living area. A gas fire pit insert can warm up the space and create year-round functionality.
Gas fire pits do not require any wood or other materials to stoke or create fire. Instead, a gas line is run to the fire pit, and fire is created with propane gas. Because nothing is being consumed in a gas fire pit, there are no flying sparks or unpredictable flames. Silica sand, lava rock, and fire glass are popular choices for gas fire pit decoration. 
While the benefits of gas fire pits include not having to supply wood and a safer, more controlled burn, gas fire pits are somewhat more difficult to install than wood-burning fire pits. Gas fire pits require a gas line and electricity to be run to and hooked up to the fire pit. Although pre-manufactured drop-in gas fire pit kits are made and sold, this is not a job that can typically be done at home. Working with explosive gas lines can be extremely dangerous and should only be performed by a professional such as Haulstr. Our team has over twenty years of landscaping experience, and we specialize in helping our clients create the backyard of their dreams, fire pits included.
If you're not sure where to begin with a gas fire pit or you have a larger patio dream that needs to be realized, searching for 'gas fire pit installation near me' is always a good place to start. It's important to choose a local vendor that is familiar with your area and the process of getting permits and working with the city if necessary. Another benefit of working with a local professional is that it helps to give back to the community.
Gas Fire Pit Table
When exploring the idea of adding a fire pit to your patio space, you might come across the products known as gas fire pit tables – which are pretty much like they sound. They're tables – but they are also a fire pit! There are a few different types of outdoor gas fire pit tables. 
A conversation or counter height fire table is a tall freestanding column that also has a fire pit in the center. They tend to be around 38 inches tall or taller. These fire tables are ideal for mingling events such as weddings, cocktail parties, networking events, and other social gatherings where people do a lot of standing. Guests can gather around the fire tables for warmth and place their drinks. 
An 'occasional' height fire table is one that would be the height of a standard coffee table in an indoor living room. This is the lowest height of natural gas fire pit tables and works well paired with deep-seated patio furniture or other outdoor furniture that is also low to the ground. 
A 'chat' height fire table is taller than occasional height but shorter than conversation or counter height fire tables. They are around 24 inches tall and pair best with taller patio furniture or more formal sets. 
Finally, there is the dining table height! These are perfect for people who want to truly incorporate the outdoors into their everyday lifestyle, even in the colder months. A dining table fire pit is just that – it's a dining table that has a natural gas fire pit in the center. These tables are around 29 inches tall and can accommodate dining chair furniture. The overall size of the table will vary depending on the specific model. Many dining fire pit tables are built to accommodate four chairs, but larger ones can be custom-built according to your needs.
It is possible to have a "DIY" fire pit table – many fire pit tables operate under a 'plug and play' model. However, if you plan to have an immobile fire pit table or connect the gas line to your home – it is necessary to hire a professional. 
Custom Outdoor Fireplace
If you're wondering how deep to bury gas lines for fire pits – it's time to call in the professionals. Haulstr has years of experience and can create a custom outdoor fireplace that is fit for your needs and suits your vision for your ideal outdoor oasis. While pre-manufactured gas fire pits are nice and suitable for self-installation, sometimes it is necessary to have one custom-made. For example, say you have a family of six and want a dining fire pit table, but you can only find them for four people and they're exorbitantly expensive. Working with local fire pit builders to create something custom will likely be more cost-effective and result in a product that you're truly happy with.
To find a business or contractor that creates custom fire pits, try searching 'fire pit builders near me.' Chances are you've done so already, and you've found Haulstr. Congratulations! You're in the right place. You can contact us for a quote today, and we'd be happy to bring your fire pit visions to life. If you're not quite ready for a quote but you do want to contact us for examples of our past work or questions about fire pits, you can contact us anyway. We'll be happy to hear from you.
Propane Fire Pit Table
Propane fire pit tables are fueled by gas tanks, in the same way, that a grill is fueled by gas. Many tables are constructed in a way that hides the tank within the body of the table so that it is unseen by the users. Since the table uses a tank of propane as fuel, that makes the gas fire pit portable! It can be moved around the patio to suit your needs. If the table is connected to a gas line underground, it is not possible to move the fire pit table around.
While propane fire pit burner kits are available, it is usually simpler and safer to call in a professional to build a fire pit. After all, a propane fire pit kit is only half of the fire pit. To be safe and functional, a fire pit should be placed in a location that is safe, consisting of materials that cannot be caught fire. Not every location is safe for a fire pit burner kit. Propane is highly flammable and combustible – if it weren't, it wouldn't be good for fire pits! Because of this, it must be handled carefully, and fire pits must be built and placed intentionally.
Diy Gas Fire Pit Table
While certain manufacturers do make and sell DIY natural gas fire pit kits, working with natural gas such as propane is incredibly dangerous. Without experience, parts could be assembled incorrectly, resulting in disasters such as an explosion or carbon monoxide poisoning. While natural gas fire pits don't release flaming sparks or burn randomly in the way that wood-burning fire pits do, natural gas does release carbon monoxide into the environment, which is deadly to humans and animals in a contained area. 
To create a DIY gas fire pit with hidden propane tanks, a certain level of experience and expertise is required. Many DIY gas fire pit tables are only sold with the metal frame or wiring for the kits, some hosting, and valves. The actual housing of something like a DIY round fire pit table is an extremely important part of the fire pit process. Materials that are not suited for fire pit tables could catch fire or melt, endangering yourself, others, your home, and the environment. 
It is helpful and recommended to hire professionals when creating or designing spaces with natural gas fire pits to severely reduce the chance of accidents, both during installation and during later use.   
Gas Fire Pit Services
While it may be tempting to go with a DIY natural gas fire pit, choosing professional gas fire pit services is the safest way to go. A DIY fire pit kit comes with a lot of parts that serve an essential purpose. Without the proper knowledge of these parts and the techniques to install them, parts could be installed incorrectly or broken. Fire pit kits include a lot of very specific fittings that require specialized knowledge to install correctly. Not to mention all of the extra pieces required to hide gas lines, like a fire pit hose cover. Hiring professionals means that you don't have to do messy maintenance, like cable, hose, and wire management.
Natural fire pits can also be created with in-ground gas lines and wired to electrical switches. In that case, a professional is definitely required as, in some cases, permits will be necessary. 
There are many shapes and styles of gas fire pit inserts – round, square, rectangular, and more. In custom fire pit services, there are even more possibilities! When considering building a gas fire pit into your design for a patio, there are a few things you should consider.
The first point to consider is why you are thinking of installing a natural gas fire pit at all. What is the purpose of the fire pit? Are you hoping to have dinner outside? Cozy up on your patio furniture during cold weather? The purpose of the fire pit can quickly determine a few different things, such as size.
The second thing to consider is – do you need the fire pit to be mobile. If yes, the fire pit must not be connected to an in-ground gas line. That means more maintenance, as well as remembering to replace the propane tank.
Hiring professionals can keep you, your home, and your family safe. Working with trusted professionals like Haulstr means that you can have the custom fire pit of your choice while getting the most out of your cost. Searching for 'fire pit service near me' should return results of professionals with experience creating custom fire pits.
Homeowners love it
Pick the mulch you want, schedule a 1-hour window for delivery, and one of our Haulstars will be there to deliver your mulch.
I scheduled my mulch 3 weeks in advance, and it showed up on the hour. Best of all, my order helped our school raise money for our new PE equipment.
What an amazing experience. Mulch is such a pain to pick up, figure out how much to get—now I'm just a few clicks away every spring. Consider me a customer for life!
I'm a veteran, so when I heard that Haulstr was finding vets and first responders to drive, that meant a lot to me. My order was delivered correctly by a respectful off-duty firefighter.
Drive for Haulstr
Many Haulstr drivers are veterans and first responders. Who better to serve our customers than those who serve our country and communities? Join our team today.
Like us on Facebook for updates on organizations we're working with and to hear about additional services offered throughout the year.