Black Mulch Landscaping
Delivering Mulch & Firewood to Support Local Causes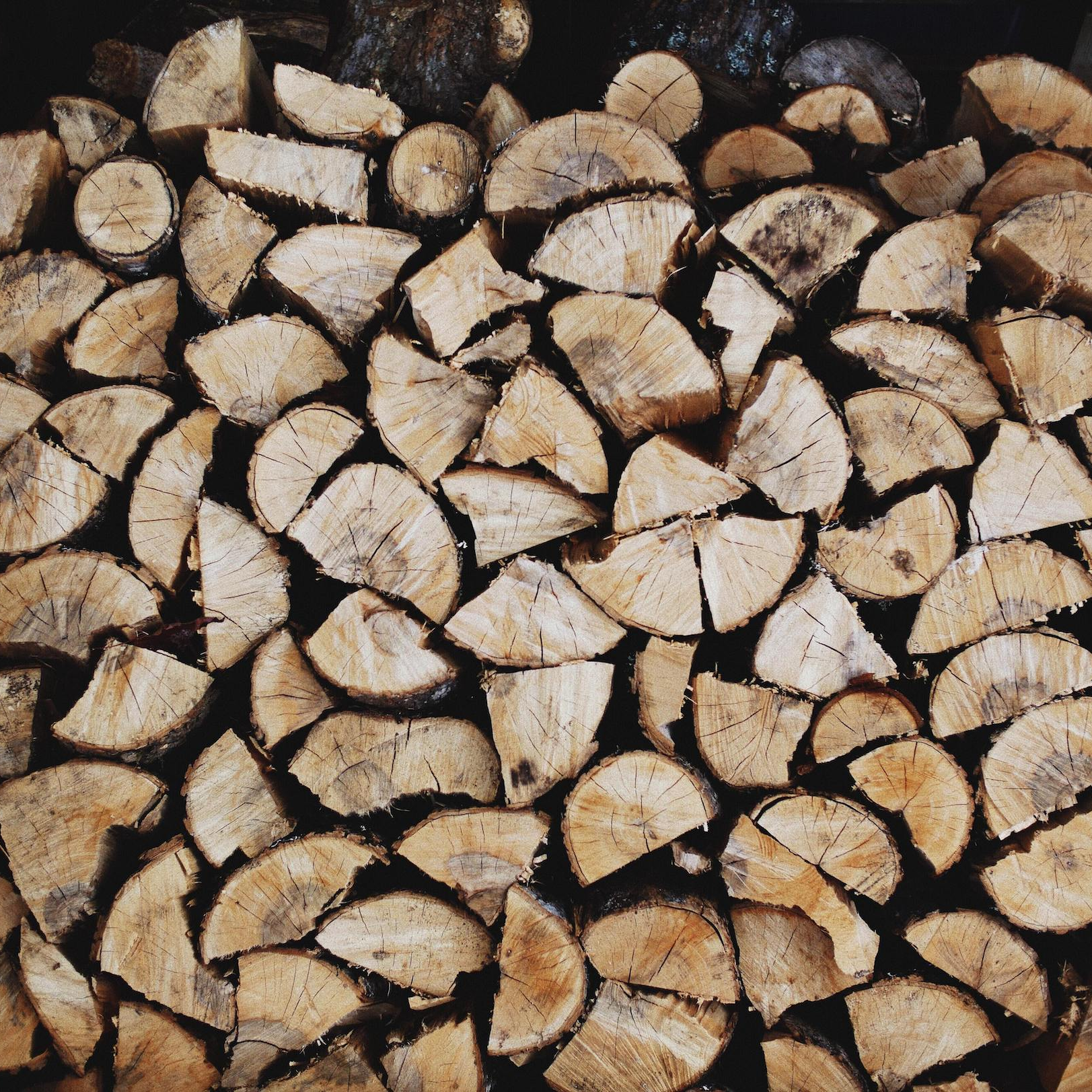 Firewood Delivery
Schedule your firewood delivery in a few clicks, and stay cozy all winter long. 
Landscaping & Patio
Create a backyard oasis with new mulch beds and plants or your dream patio.
Simple Online Ordering
Order today & schedule delivery for any date you like.
Black Mulch Landscaping
Black mulch landscaping is the most popular for residential purposes. It maintains the health of your flower beds, vegetable gardens, and plants by keeping the temperature consistent, retaining water, killing weeds, and stopping erosion. In other words, black mulch retains the good and prevents the bad. It creates a moist, fertile plant bed, and the result looks super sophisticated.
Organic black mulch has a rich, vivid color making it all about visual appeal. Its dark contrast enhances your brighter plants to make them appear more vibrant. The color makes a beautiful accent for a clean-looking landscape or even lining driveways and walkways when you need black mulch front yard ideas. This striking, contemporary mulch type also pairs incredibly well with grey or white gravel when looking for rock and mulch landscaping ideas for your front yard.
As long as we're talking aesthetics, it's important to note that inorganic dyed black mulches only serve an aesthetic purpose, not a nutritional one. The chemicals used to color black mulch don't add back value to the soil as the mulch breaks down (the way nutritious natural products do). They can stunt your plant's development because if paints and pesticides are used to treat your black mulch, they could become toxic to your plants.
Haulstr black mulch is safe for kids to play in and safe for pets to eat — it all comes down to healthy chemical composition. So when you're considering black mulch landscaping ideas, stick to organic varieties, like wood chips. At Haulstr, our products are locally sourced, and our dyes are 100% natural and nontoxic. You can order mulch by the yard using our mulch calculator and then schedule your delivery online.
Along with premium black mulch, Haulstr hires professional landscapers to handle the installation and edging of your product. We offer everything to make gorgeous gardens attainable in just a few clicks.
Best Black Mulch
There are several options you can choose from when buying black mulch. But here's why Haulstr is the better choice. When you order mulch delivery through Haulstr, you can skip the painful labor and non-biodegradable bags that come with shopping for Menards black mulch or black mulch at Home Depot and black mulch at Walmart. Avoid the commute back and forth and the long lines during peak gardening season. We bring everything to your door, on your own time.
Picture an afternoon of bags: picking them up, shaking them out, throwing them down, trying to steer clear of the black dye. It's frustrating enough to factor in the heavy pounds and awkward shape. Why suffer through a beautiful spring day when you can leave all the lugging to people who are strong and reliable and do this for a living? It's what makes us the best. We employ first responders as our drivers, typically veterans and firefighters happy to help lighten the load. And you can have black mulch professionally installed by our hired local landscapers, who will treat your garden like their own.
Haulstr can also provide you with the best black mulch with our premium quality guarantee. Because it's all-natural and locally sourced, it's better for your plants than chemically-treated varieties. Regarding the longevity of our black mulch product, you might see some fading, but turning the mulch once every season will help to preserve the color. Simply drag and flip a rake through the mulch to zhush it up.
Haulstr has cornered the market on the best mulch delivery experience. We differ from other mulch services and products significantly: we donate a considerable portion of our proceeds to community charities and nonprofits through our giveback model. Every black bulk mulch order made through Haulstr goes to a fantastic local cause, with about $30 on average supporting, inspiring organizations.
Black Mulch Bulk
Look no further when trying to buy "black mulch bulk near me." Haulstr delivers all of our mulch in bulk to prevent plastic bag waste and provide a better value than the bag. We believe in having a positive environmental impact. And because we deliver by the truckload, you'll never over or underestimate how many packages (or trips to the store) your project requires. See How Much Does A Yard Of Mulch Cost for proper estimates.
As for our bulk mulch prices, here's the rundown:
Haulstr Classic Black Mulch: $36.75 per cubic yard
The cheaper of our black mulch types, this is what you want when you've got a lot of ground to cover. The gorgeous jet-black is especially striking against green leaves and grass, perfect for when you want to make a big statement on a low budget.
Haulstr Fines Black Mulch: $42.95 per cubic yard
This blend is a finer-ground version of our Classic. It's the same deep, beautiful black, but it can better retain that stark color because the mulch is less coarse. Even though the dye will go the distance, the mulch will break down. The plus side? This adds nutrients back to your soil.
Depending on the type of black mulch, it may need to be watered immediately or given 24 hours to dry out in the sun for the color to take.
Last but certainly not least: when shopping for "bulk black mulch delivery near me," handle it with care, so the dye doesn't transfer, even non-toxic dyes like ours. For example, don't shovel your dyed black mulch from concrete surfaces where it has the potential to stain. Protect the concrete with a tarp (this will also help to mark the dumpsite for our delivery trucks). If you're installing the black mulch bulk yourself, gloves will help prevent getting the dye on your clothes and hands. Wear clothes you can stand to get dirty, just in case.
Bulk Mulch Delivery Near Me
While black mulch can refer to plastic sheeting, we recommend ditching all the cutting and stretching. Because whether black mulch is in your plant beds or a border around them, the eye-catching look of hardwood mulch can't be sold short. And when you want that fuller, more decadent outdoor aesthetic, Haulstr is available for orders of a "truckload of mulch near me."
You should know a few pros and cons of black mulch before you order in bulk.
Black mulch has the added benefit of attracting heat. As sunlight bakes the ground, the mulch retains the warmth well into wet and early winter weather. Black mulch is ideal for providing that extra insulation when it matters most. However, that higher temperature could be brutal for more sensitive plants unless you already live in a cooler climate where the retained heat wouldn't be as intense. Those heat fluctuations also wouldn't be as detrimental to plants like peppers, tomatoes, and melons that flourish in warm soil.
While Haulstr black mulch is dyed, the wood is locally sourced, and the nontoxic dye makes it safe to use. While the color of black mulch has been said to invite insects, it's also been suggested that the dye itself acts as a repellent. Though the possibility of an infestation is more of a maybe, these are just additional considerations to be mindful of as you shop for black mulch.
So here's where we'd like to remind you that Haulstr delivers premium black mulch delivery, even in light rain, and always on time. Our team can fully service the delivery, installation, and more, and customers can shop all Haulstr has to offer online with just a few clicks. When you choose Haulstr for "black mulch delivery near me," your order will be as cohesive as your mulch spread and as organized as the look of your yard after installation. And when life gets busy, you can opt into our schedule reminders.
Black Mulch On Sale
 Haulstr customers don't have to go looking for black mulch on sale. We ensure our customers get the exclusive best deals and updates for promotions before anyone else, including mulch free delivery days and holiday promo codes.
As far as regular pricing, our mulch delivery costs between $24.95-$42.95 per cubic yard, with installation costing an added $75 per cubic yard. We also include an upfront community and convenience fee of $90, which pays for our trucks, gas, labor, and scheduling tech.
But there's much more included in the savings breakdown than our budget-friendly mulch.
Factored into our final cost of black mulch delivery and installation is the environmental payoff of no plastic bags littering landfills or neighborhoods. And in the long run, not paying for packaging is a better bargain. For the complete cost comparison of trying to find bagged black mulch on sale rather than ordering in bulk, see our guide to Bagged vs. Bulk Mulch. Bulk mulch will always save more when it comes to big jobs.
Rather than looking for the best deals online or shopping in-store at places like the Lowe's black mulch sale and waiting for a price drop, Haulstr shares the best values with our customers directly. And included in that saved time is all the driving, lifting, carrying, and dumping you're not doing because you ordered online. Move your mouse here, a few clicks there, and suddenly have a bulk black mulch order on its way to your doorstep when convenient for you.
A few last dollar considerations, and arguably the most important. We ensure we're giving back to our community through our Spread the Good fundraising model, serving charitable causes through our services. You're earning back your dollar through an enriched community. You're also helping to improve your local economy by providing jobs for local mulch suppliers, local landscapers, and local delivery drivers. So the value of shopping "black mulch on sale near me" with Haulstr is infinite.
Homeowners love it
Pick the mulch you want, schedule a 1-hour window for delivery, and one of our Haulstars will be there to deliver your mulch.
I scheduled my mulch 3 weeks in advance, and it showed up on the hour. Best of all, my order helped our school raise money for our new PE equipment.
What an amazing experience. Mulch is such a pain to pick up, figure out how much to get—now I'm just a few clicks away every spring. Consider me a customer for life!
I'm a veteran, so when I heard that Haulstr was finding vets and first responders to drive, that meant a lot to me. My order was delivered correctly by a respectful off-duty firefighter.
Drive for Haulstr
Many Haulstr drivers are veterans and first responders. Who better to serve our customers than those who serve our country and communities? Join our team today.
Like us on Facebook for updates on organizations we're working with and to hear about additional services offered throughout the year.