How Often To Mulch
Delivering Mulch & Firewood to Support Local Causes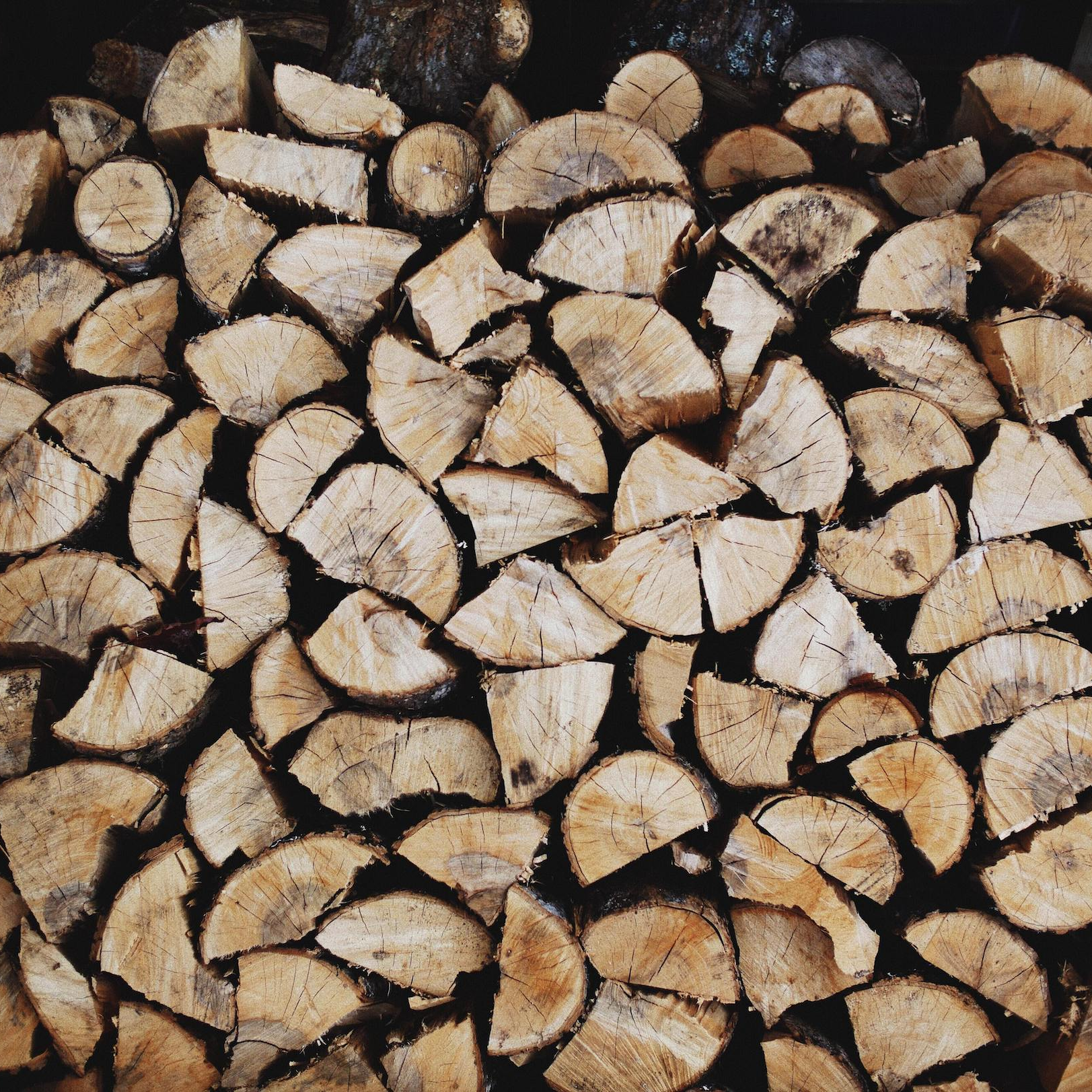 Firewood Delivery
Schedule your firewood delivery in a few clicks, and stay cozy all winter long. 
Landscaping & Patio
Create a backyard oasis with new mulch beds and plants or your dream patio.
Simple Online Ordering
Order today & schedule delivery for any date you like.
How Often To Mulch
In the best-case scenario, organic mulch can last five to six years, but between drifting and decomposition, you can probably expect an annual mulch replacement. We have an article on How Long Mulch Lasts that gets into more detail, but here are a few need-to-knows.
Organic mulch breaks down, which is its appeal. As it decomposes, it releases enriching nutrients which promote plant strength and structure. But for the same reason, you'll start to see your layers of mulch thin over time. And when you factor in weather, a combination of wind, rain, slope, etc. will likely all cause your mulch to migrate.
Even as you periodically replenish your piles, how often to mulch will depend on whether you're starting from scratch or mixing in new mulch. You can add back the mulch to preserve a 2-3 inch depth, just don't go overboard. For one thing, you don't want to create an ever-expanding volcano of mulch that suffocates your plants, blocking off air and water circulation. For another, you'll want to check your existing mulch pile for signs of rot. Fluffing your mulch with a rake can provide a bit of healthy turnover and allow for a mold inspection. Visible rot can indicate whether you need to remove or replace the mulch.
So as far as frequency, should you remove mulch every year? You might not have to. When you're searching "how often to mulch lawn," sometimes the answer isn't always a matter of plant health. Replacing mulch can be an aesthetic preference, quickly taking your garden's look from faded to fresh.
As you consider where to buy your mulch types, here's why you should go with Haulstr. With Home Depot mulch or Lowe's mulch, you won't get the satisfaction of shopping local. You not only fuel your community's economy with a bulk mulch order from Haulstr — but you also benefit from natural, non-toxic ingredients found in your backyard.
Types Of Mulch
Certain types of mulch degrade faster than others, which will impact how often you mulch. Synthetic mulches like rubber can last you up to ten years, but their chemicals are not fortifying your plants. And synthetic properties don't guarantee longevity. Even inorganic mulches like landscape fabric will wear down within a year, and you'll start to see weeds poking through. But if you're not big on maintenance or recurring costs, inorganic mulch can ensure longer-lasting coverage.
As for organic mulch types, shredded bark mulch will have to be replaced the most often. It shifts easily. Main takeaway? The bigger the mulch, the better. While wood chunks and chips don't have strong staying power, bark mulch tends to stay in place. As the toughest part of the tree, the bark's durability makes it an attractive mulch option.
For example, cedar mulch runs more expensive, but it breaks down slowly, so you get a great value. Its anti-fungal properties also make cedar the best mulch to avoid termites (termites are drawn to heavy moisture, another reason it's important to keep mulch piles between 2-4 inches.) But the longer mulch takes to decompose, the less quickly its nutrients are released. You have to weigh mulch types, advantages and disadvantages.
At Haulstr, our products are made from whole-tree hardwood. We offer brown, black, and natural mulch. All our mulch types are nutrient-dense, the difference being that our brown and black mulch products are dyed (nontoxic, of course). Our most popular mulch is our bark blend, but we also offer fine, coarse blends that break down quicker and hold their color longer.
It's not just the bagless bulk delivery that makes Haulstr the best mulch brand. Your mulch is delivered to your door by local drivers instead of shipping. And as always, Haulstr donates ~$30 per order to a local cause.
When To Mulch
There's a reason spring goes hand in hand with gardening. The soil is heating up, so as you're searching "when to mulch garden" you'll find that mid-to-late spring is best. The "mid-to-late" is key. If you jump the gun and mulch too early, you could trap cold soil beneath your mulch, delaying or stunting your plant growth. Alternatively, the insulation could also trick your plants into sprouting prematurely, and put them at risk of being wiped out by a late frost. 
A bonus of mulching in spring? There won't be much of a bed cleanout necessary because weeds won't have begun their infestation. (Side note: bark is the best mulch to stop weeds so you can skip dealing with them altogether.) All that said, the "best time to mulch lawn" actually has two answers. Some homeowners mulch twice a year because there are benefits to mulching in the fall, especially with those upcoming temperature shifts. Applying a thick blanket of mulch before winter weather sets in gives your plants a stronger chance of survival. Inorganic mulches can come in handy here — plastic sheeting, for example, can keep the soil warm and act as a seasonal solution for how to keep mulch in place. Mulching in fall is also a far less sweaty endeavor, even on a sunny day. You just have to find time before the sun sets. 
Because there are different mulching seasons, when to mulch can come down to your type of plant and climate. Leave the old mulch on until the weather has stabilized. That insulation will keep them safe. When it's time, what to do with old mulch is simple: compost it or haul it off to the trash in a wheelbarrow.
Haulstr is here to take care of your mulch from start to finish. If you want our landscaping skills and more mulching tips and tricks like these, contact us.
When To Mulch Flower Beds
As for when to mulch flower beds, opt for mid-to-late spring. Mulching too soon results in a process called heaving, where the soil lifts and your plants come along with it. In addition to the danger of freezing, early spring showers could wash away all your mulching labor. 
The mid-to-late spring window allows your flowers a good head start to get growing before you mulch, which means seedlings won't have to fight through the layers. Mid-to-late spring is also the ideal time to mulch flower beds because it allows organic mulch types to release their nutrients. The longer your flowers have to incubate in that extra fertile soil, the more likely those seedlings are to turn into happy, healthy flowers.
Now, what is the best mulch for flower beds? Once again, hardwood mulch takes the crown. Not only is cedar mulch good for flower beds, but it's also the best mulch for flower beds. Cedar is especially gifted at water retention, so you don't have to water your flowers as much. It also acts as an insect repellent. The bark consistency also prevents soil from compacting too tightly around your plants when it rains. This gives the roots room to breathe.
Haulstr is ready to spring into action. We'll help you avoid those stressful planning periods with a mulch yardage calculator, so you know exactly what you need. And because timing matters, we allow you to schedule your bulk mulch delivery within any 1-hour window, 7 days a week. We'll send email and text notifications as your delivery date approaches, including an update when your driver is on their way. You can even reschedule 24 hours in advance of your delivery date. It's all done through simple online ordering.
Best Mulch To Use Around House
If you use the same mulch for flower beds, gardens, trees, etc., we admire your consistency. And yes, there is an answer for "best mulch to use around house", when you want a jack of all trades. Wood mulches are durable and friendly, with nutrients beneficial to all plant types. Consider alternatives to mulch around the house, like rubber, plastic, fabric, stones, etc. if you're not much of a gardener or you don't want to worry whether its acidity level matches your plant type.
You've evaluated mulch types and you know how to spread your mulch. You've got all the pieces in place. How often should you replace mulch? While mulch prevents the sun from overheating the soil, it also prevents winter weather from shocking your plants to death. So it's important in every season. There isn't an exact science for replacement, it's just about preserving mulch depth. With eroded piles, you'll start to see the types of problems that mulch is meant to circumvent. Weeds will pop up and less water will be retained, which both mean you'll have to tend to your plants more. So add mulch back to your plant beds as your organic types decompose. That being said, there comes a time when you'll need new mulch.
Which brings us to the big question: Should you mulch every year? Look for those telltale signs: decomposition, discoloration, and erosion. If mulch is soggy or bare, it's time to replace it. This is for the protection of your plants, whereas faded mulch is more to flatter your tastes. These all typically occur within a year with organic mulch, but it's not unheard of with inorganic varieties. So inspecting your mulch or fluffing it on a semi-regular basis can tip you off as to when you need to install new mulch.
Haulstr can take care of the whole mulching process so you don't have to spend time thinking about your yard — just enjoying it. Spring is our busy season, so start your online order today to guarantee you don't miss the ideal mulching period.
Homeowners love it
Pick the mulch you want, schedule a 1-hour window for delivery, and one of our Haulstars will be there to deliver your mulch.
I scheduled my mulch 3 weeks in advance, and it showed up on the hour. Best of all, my order helped our school raise money for our new PE equipment.
What an amazing experience. Mulch is such a pain to pick up, figure out how much to get—now I'm just a few clicks away every spring. Consider me a customer for life!
I'm a veteran, so when I heard that Haulstr was finding vets and first responders to drive, that meant a lot to me. My order was delivered correctly by a respectful off-duty firefighter.
Drive for Haulstr
Many Haulstr drivers are veterans and first responders. Who better to serve our customers than those who serve our country and communities? Join our team today.
Like us on Facebook for updates on organizations we're working with and to hear about additional services offered throughout the year.