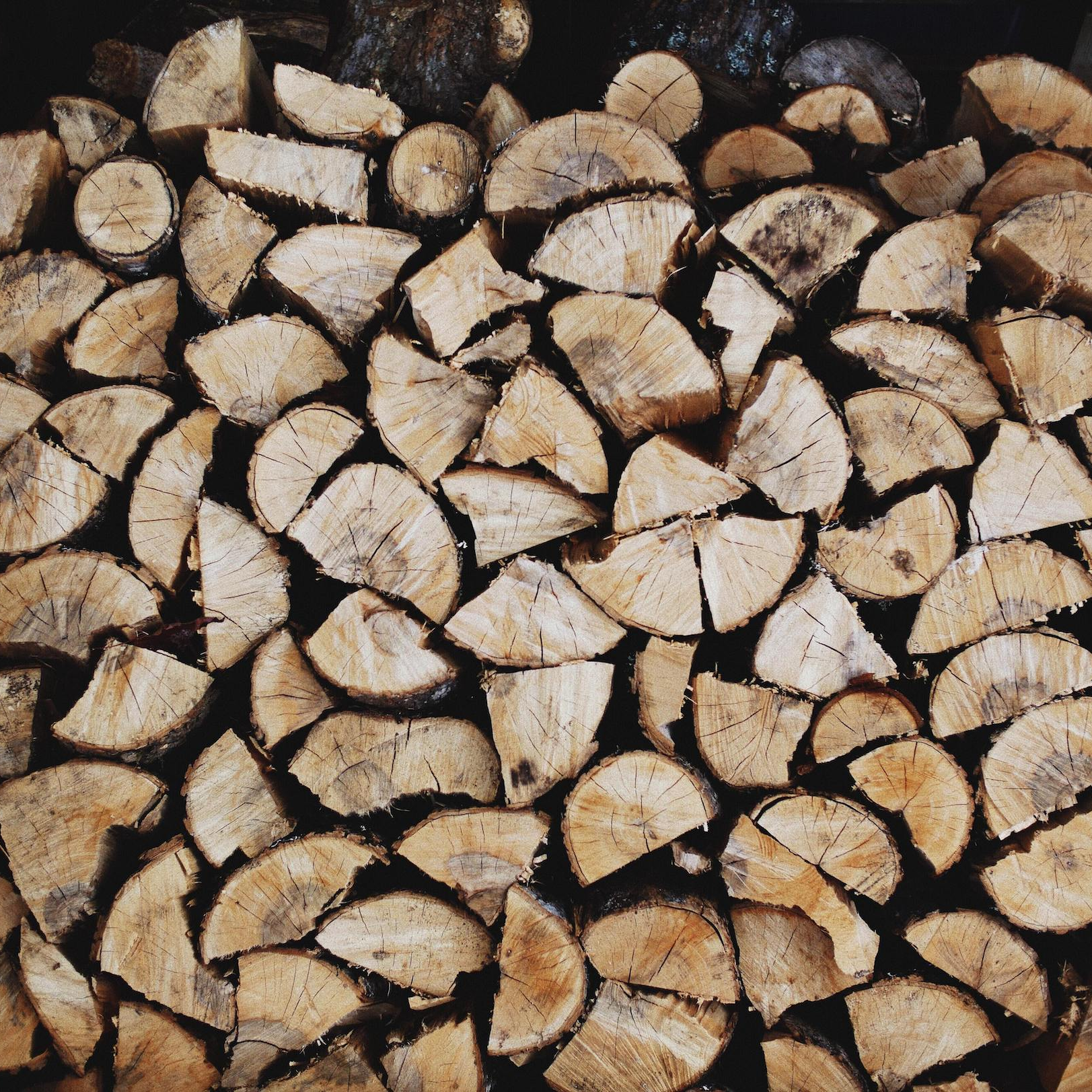 Firewood Delivery
Schedule your firewood delivery in a few clicks, and stay cozy all winter long. 
Landscaping & Patio
Create a backyard oasis with new mulch beds and plants or your dream patio.
Simple Online Ordering
Order today & schedule delivery for any date you like.
Custom Patio
The idea of building a custom patio is really exciting. Customized backyard spaces can transform a lifestyle and create even more living area for your family. When dreaming of backyard-covered patio ideas like outdoor kitchens, hard shelter/covered spaces, gardens, water features, and more – it can feel like the sky is the limit. When you have a custom outdoor space that is suited for the lifestyle of you and your family, you're not limited to living life indoors. Are kids driving you crazy with their mess? Send them to the patio! Easy cleanup but still comfortable for everyone involved. It's a beautiful day outside, but you're stuck inside with lunch? Outdoor kitchens give you the opportunity to cook and clean outside, enhancing your experience. Maybe you love a good storm and want to sit in the rain and read – without all of the wetness. Covered patios can provide shelter from the elements while you cozy up and enjoy it. Add an outdoor fireplace, and it's perfect! Water features can also give you those rainy-day vibes when the sun is out. 
While it's wonderful to plan for a covered patio – it's pretty likely that you won't be able to make all these modifications yourself. There's a lot that goes into creating a customized outdoor space! There might be excavating, concrete pouring, furniture building, new electrical and plumbing, and more – there are many different trades and skill sets that meet when designing and building outdoor living spaces. Patio builders have or can easily acquire all of the talent and machinery needed to create the backyard of your dreams. Searching for "patio builders near me" should return some results that will connect you with the professionals that are right for you!
Haulstr is a mulch, firewood, and landscaping delivery service that helps support local causes with every order. We support and service many communities in greater Indianapolis. Our team has over 20 years of landscaping experience, and we are here to help you realize the outdoor lifestyle of your dreams.
Custom Patio Covers
There are many different types of patio covers available on the market, but they're not 'one size fits all'. Different patio covers provide various types of shelter. It's important to select a patio cover that fits your needs and vision. If a standard patio cover can't be found on the market that suits your purpose and aesthetic, commissioning custom patio covers is the way to go. So to begin, exactly what is a patio cover?
There are several different types of standard patio covers. Here are a few examples:
Pergola: A

pergola

is a square or rectangular structure that is typically wooden. A popular or common design is made with a grid of beams and rafters on top. This may be closed to the elements or left open for sun exposure to whatever is below. It is more common for pergolas to remain open to the elements, but

patio cover builders

can customize the structure to fit the design while closing it off to rain, etc.

Awnings: When you hear the word "awning," you might think of boldly striped fabric, campers, RVs, or flimsy flyaway poles. Those are the awnings of the past! Modern awnings are sleek and highly customizable. They are typically made of canvas fabric and can be freestanding or attached to the house or roofing element. They can be retractable. They are also one of the more

affordable shade patio covers

due to their materials.

Aluminum Patio Covers: Aluminum patio covers are typically connected to your house and appear just as an extension of your home. The sides of these are typically open, and the covering is aluminum, making it totally covered from the rain.
If there are certain elements of some patio covers that you love but not others – for example, you love the rustic look of a pergola but don't want it to be totally freestanding and open to the elements. A patio builder should be able to customize the function of the structure to fit your needs and vision.
Patio Design Tool
When dreaming up your patio build, many people find it useful to utilize visual tools to help bring your dream to life. However, it can be difficult to find patio design tools for free that delivers an adequate vision. Some people even turn to video games to create their visions for their spaces! However, there are some free online tools that can help you design your own patio before going to a professional. These tools will likely not have the versatility, flexibility, or scope as pro landscape design software, but it's somewhere to start.
One of the 3D patio design software that is available for free at home is something called Planner 5D. It can be a little difficult to get started with, but it will likely offer the highest level of customization and realism as a free tool. Users can create their own designs from scratch or use templates from Planner 5D. It can also be used for interior design as well. In the case of patio and exterior design – this may be a slight detraction because that means that many of the assets used in the software (furniture pieces) will actually be geared towards indoor use instead of outdoor use. It might look a little strange to place a king-sized bed in the middle of your backyard! 
There are some apps, like iScape, that uses a virtual landscape design upload photo feature that allows users to upload a photo of their yard and then begin designing on top of it. While novel, the app is not totally free to use and may not provide the highest level of realism and customization.
Patio builders can use 3D backyard design software to help you visualize your plans for your backyard. If creating a 3D model sounds intimidating to you, don't worry about it! Simply have a conversation with your builders about what you'd like to use the space for, as well as some basics like favorite colors, textures, and materials. Let them do the rest and come up with a visual plan for your approval. If you love creating and visualizing, going with a patio builder online and then working together with the builders to bring your vision to life is an option as well.
Covered Patio Construction
The timeline of covered patio construction is highly dependent on a number of factors – complexity of design, time of year, materials used, and more. However, a typical construction project in ideal conditions could be done in as few as 4-6 weeks. This accounts for the time that it takes to find your preferred contractors and request a quote. If you're searching for 'covered patio builders near me' and you've found Haulstr, you're that much closer to completing your project! You can contact us for a quote today to move the project forward, and we will work with you as quickly as possible. 
However, as in any construction project, speed should not be the biggest priority. Quality and craftsmanship are incredibly important with stone patio builders and any landscaping project. The idea of a patio space is to create a living space outdoors – to truly integrate it into your lifestyle and create a new function for yourself and your family. That vision should not be sacrificed for speed to completion.
When choosing your vision for your patio, there are a few factors that must be considered. Do you want a covered patio or an open one? There are pros and cons to each, and ultimately the decision is influenced by your intentions for the patio. If you're looking for more of a covered gardening space, an open patio might be better as the plants would have more access to sunlight and water. If you're searching for a place to relax on sunny afternoons or rainy mornings, a covered patio is your best bet.
It might be helpful to keep a running list of all the reasons why you want a patio in the first place and then bring that list to builders so that together you can create a customized vision that fits your needs and budget.
Backyard Patio Builders
It's important to carefully select backyard patio builders to entrust with your project. A custom patio can cost anywhere from $1,000 to even $20,000 – and you want to be able to say that it was money well-spent! When selecting a contractor or service by searching for 'outdoor living contractors near me,' there are a few things you should do – the first is to check for reviews. Go outside of their website to look for reviews as well. Google reviews tend to be more trustworthy than web-hosted reviews because Google reviews can be left by anyone and are typically published unless vulgar. Web-hosted reviews are usually selected by the contractor so that negative reviews will be left off. However, don't let this stop you from trusting web-hosted reviews. They're still true words from the customer! 
You can also try asking around for neighborhood experiences with any local patio builders or contractors. If you're a trendsetter and none of your neighbors yet have patios, searching 'concrete patio builders near me' may be your best bet to find contractors in your area. 
When speaking with patio builders and landscapers, there are a few things you should ask for to determine if they're a good fit for your project.
Reviews: Search for reviews from their past jobs to find customer input about their work. Positive reviews are good, but it's actually almost better to find negative reviews – why? Because you learn more from a negative review! Negative reviews can reveal possible deal breakers or common issues when working with a business – or let you know how they respond to conflict. Sometimes accidents happen – a negative review will clue you in as to how a business responds at that moment. 

Examples of past work: For complicated projects like custom patio design, it's better to go with a firm that has lots of experience and photos to prove it. Don't go with a patio builder before seeing their previous experience. Ask for a portfolio!

Examples of typical timelines/construction processes: If you're a details person, ask how the build will happen. What happens first? Take a look at the contract – and if there isn't one, insist on one! A contract is a must in work like construction.

Proof of permits & insurance: Patio construction often involves excavation and digging. These often require permits from the city or county. Insurance is also important – as previously stated, sometimes accidents happen. It's important to know that the

contracted workers

, yourself, and your property are covered.
The team at Haulstr has over twenty years of landscaping and hardscaping experience. It's our job to create the outdoor landscape of your dreams, and we take pride in delivering on our customer's expectations. Our reviews are open for anyone to see, and we love speaking with new prospects! It's our goal to provide a streamlined and transparent process for customers. 
Homeowners love it
Pick the mulch you want, schedule a 1-hour window for delivery, and one of our Haulstars will be there to deliver your mulch.
I scheduled my mulch 3 weeks in advance, and it showed up on the hour. Best of all, my order helped our school raise money for our new PE equipment.
What an amazing experience. Mulch is such a pain to pick up, figure out how much to get—now I'm just a few clicks away every spring. Consider me a customer for life!
I'm a veteran, so when I heard that Haulstr was finding vets and first responders to drive, that meant a lot to me. My order was delivered correctly by a respectful off-duty firefighter.
Drive for Haulstr
Many Haulstr drivers are veterans and first responders. Who better to serve our customers than those who serve our country and communities? Join our team today.
Like us on Facebook for updates on organizations we're working with and to hear about additional services offered throughout the year.