Dyed Mulch
Delivering Mulch & Firewood to Support Local Causes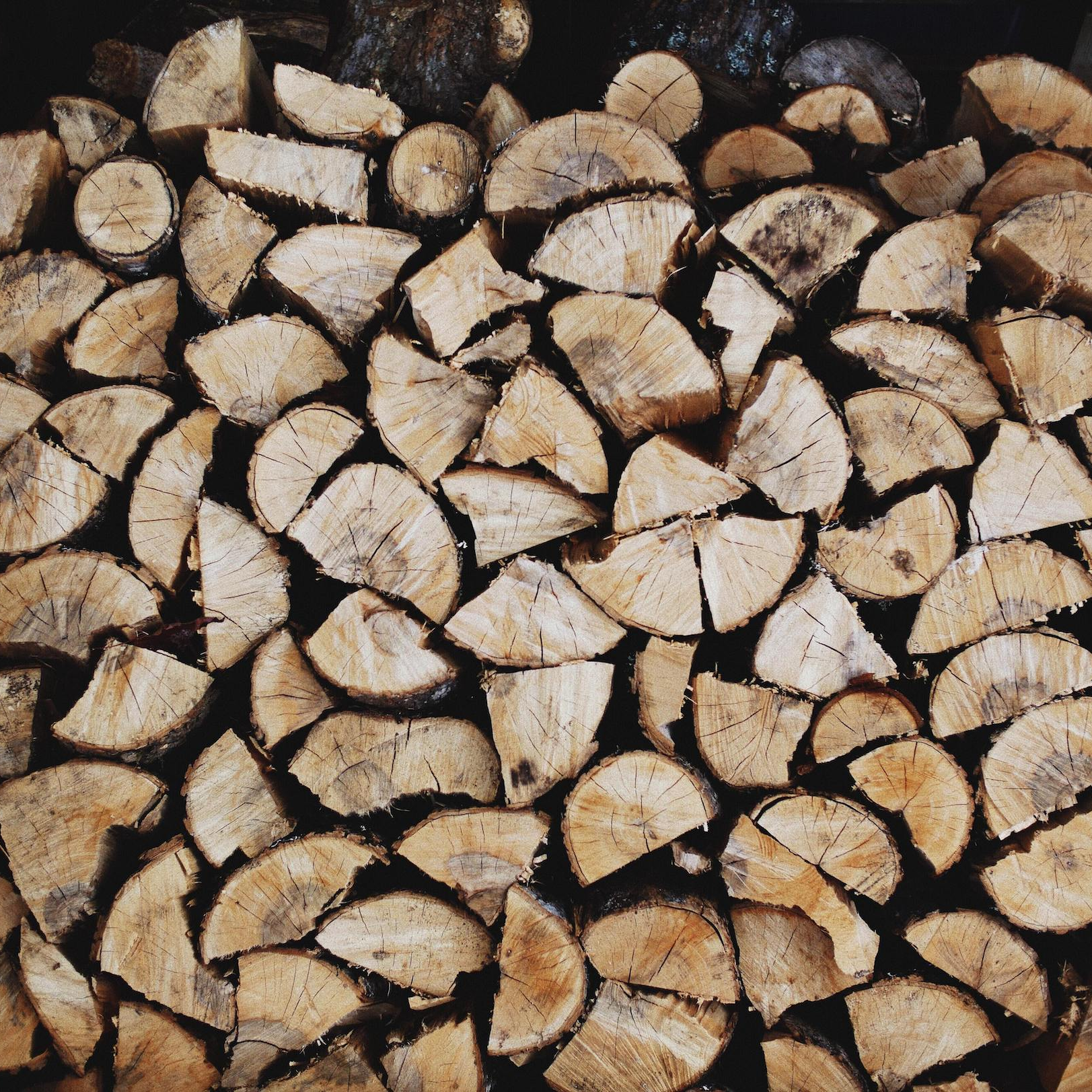 Firewood Delivery
Schedule your firewood delivery in a few clicks, and stay cozy all winter long. 
Landscaping & Patio
Create a backyard oasis with new mulch beds and plants or your dream patio.
Simple Online Ordering
Order today & schedule delivery for any date you like.
Dyed Mulch 
Dyed mulch, also known as colored mulch, comes in many shades and is generally made using safe, effective practices. There are mulches available in black, brown, red, and other colors. Depending on the look you're going for, you may have different opinions about which colors you want to use. Natural color mulch is just wood that is untreated and not dyed. Of the options for dyed mulch, black is one of the most popular choices. 
Dyed mulch is generally created using vegetable dyes, although black dyed mulch is usually created with carbon-based dyes. In any case, it can be an alternative to other colors or landscaping designs. All mulch is made from a variety of recycled materials or fresh wood chips, but it's important to note that fresh wood chips cannot be dyed. 
All of our mulch products are made with safe practices. We offer a selection that includes natural mulch, black, and brown dyed mulch to give your outdoor space the protection and aesthetic appeal that you have been seeking. Dyed mulch is often better at retaining water for plants, protecting them from insects, and more. Plus, when you buy it in bulk, it's a higher-quality product than the bagged mulch you can find at the local garden center. 
Read on to learn all about black mulch, including its pros and cons, whether it's safe for pets and gardens, and more. And when you're ready, reach out to the team at Haulstr about your mulch delivery needs. We'll have your materials delivered swiftly and make sure that your outdoor space looks every bit as good as you'd hoped. Plus, we can do it all with affordable, transparent pricing on our mulch delivery. 
Pros and Cons of Black Mulch 
There are several pros and cons of black mulch to consider. For starters, it shades the ground, which makes it more difficult for weeds to grow. It also offers better protection from water evaporation, as mentioned above. In the spring months, black mulch is appreciated because it attracts the sun and causes the ground to warm up faster, which means plants recover better from winter weather. 
Black also adds style and curb appeal to your home. Whether it's a front flower bed or the entire yard of landscaping, you'll find that it's an attractive finish. When you buy black mulch from us, you get a safe product that's dyed using carbon-based ingredients, not toxic chemicals like you might find in some cheaper mulching products that are out there. 
The treated wood also lasts longer than natural mulch or fresh wood chips. If you aren't careful about where you get your mulch, it could be made with toxic chemicals or other ingredients that you don't want. Choose certified brands and mulch delivery services like Haulstr to ensure that you get safe, reliable products. 
There are a few disadvantages and black dyed mulch problems, but they're not enough to deter most people. For starters, you can't recycle this mulch. It needs to be thrown away or taken to a waste facility for disposal. The good news is that if you work with us, we'll get rid of your old mulch, so you don't even have to worry about it. 
Does black mulch stain? Well, there is the concern that black mulch bleeds a little, so you should wear gloves when you're working in the garden. Also, over time, the color will fade due to exposure to the elements. However, as mentioned, it lasts a lot longer than natural mulch or other options. Other than this, you'll find few problems with black mulch. 
Is Black Mulch Safe for Dogs?
People who have pets will also want to know whether black mulch is safe for their pets. People ask questions all the time, like, "is black mulch safe for dogs" or "is mulch toxic to dogs". You'll be happy to know that since the mulch is prepared using recycled wood and carbon-based dyes, it's safe to use in the yard, even when you have pets. Of course, you don't want to let your dog eat the mulch or dig in it, but sometimes you cannot help it. In the event that your dog makes a mess of your landscaping, you can trust that you're at least not putting their health at risk. 
Is mulch toxic to humans or any other animals? Not when you buy the right kind. Cheaper, pre-bagged mulch products sold at discount stores and home improvement chains may not have the best practices or products used for dying the mulch, which could lead to safety issues for both dogs and humans. But generally speaking, when you ask is black mulch toxic, the answer is going to be a resounding "no."
When you're trying to figure out which mulch is best for your home, this is an important factor to consider. However, you'll be pleased to know that it's not going to be as big of an issue as you might have anticipated. You can read up on the different types of products and when you work with a reputable company like ours, you'll be able to trust that you're getting safe, reliable materials that aren't going to harm anyone in your family (or any wildlife that comes by). 
So, is dyed mulch safe for dogs? Absolutely. You don't have to worry about your furry family members when it comes to creating the perfect landscaping space. Contact us to discuss your design ideas and more!
Dyed Mulch vs Natural 
We keep coming back to this question and it's one that's worth looking into: is black mulch good or is natural mulch better? As discussed in the pros and cons above, dyed mulch in a black or brown color could be the ideal choice for your home. The color adds a pop of style to your space and can accent your curb appeal. It also allows the mulch to last longer and provide more protection for your gardens, landscaping, and other areas of your home. 
When you are looking at dyed mulch vs natural, there are several factors to consider. However, longevity and durability are usually high on the list. Not only that, but while natural mulch will fade and become gray-looking and drab in just a few months, black mulch and other dyed mulches will retain their color for months, and even years, when properly installed and maintained. 
What about dyed mulch and rain? When you buy quality mulch products from Haulstr, you never have to worry about whether the elements are going to impact your landscaping. Some people think that rain will wash away the dyed color more quickly, but that's not always the case. In fact, when you choose quality mulch, you shouldn't have any issues. Is black mulch good? Yes. Is it the right choice for everyone? Maybe, or maybe not. However, it is much better than natural mulch. 
The biggest contention for most people is figuring out how to dispose of dyed mulch. When you have black or dyed brown mulch vs natural, the material needs to be properly disposed of. As noted above, it usually can't be recycled after it has been dyed. Of course, if you choose a reputable mulch delivery and landscaping service like ours, we'll take care of the old mulch for you along with installing the new landscaping.
Is Dyed Mulch Safe for Vegetable Gardens?
Many people want to know, is dyed mulch safe for vegetable gardens? Not only is it safe, but it can help with water retention and keep bugs away from your beloved plants. Non-dyed mulch may offer similar benefits, but it's less effective at water retention and often turns that grayish color just a few months after being installed. Many people choose black mulch, specifically, because it allows the plants to stand out and doesn't detract from their natural beauty. 
Dyed mulch can also make it easier to find the plants in the garden when they are in their younger stages. While there are some arguments that the nitrogen used by mulch competes with what the plants need, there is no real evidence that the color of mulch alone will impact its safety. So, is colored mulch safe for vegetable gardens? Yes, absolutely. You can see by the benefits above that it's a great choice. 
You can improve the look of your garden with black mulch and at the same time ensure that your plants are more protected than without any mulch at all. You get a better-quality product, a better long-term value, and so much more. 
If you're ready to order your black mulch or other dyed mulch, contact us today. We offer transparent pricing and full-service landscaping and mulching solutions. When you choose to work with reputable services like ours, you'll know that you have the right people (and materials) for all your landscaping needs. And, for every yard of mulch that we sell you, we'll donate $5 through our Spread the Good program, which helps local community organizations.  
Homeowners love it
Pick the mulch you want, schedule a 1-hour window for delivery, and one of our Haulstars will be there to deliver your mulch.
I scheduled my mulch 3 weeks in advance, and it showed up on the hour. Best of all, my order helped our school raise money for our new PE equipment.
What an amazing experience. Mulch is such a pain to pick up, figure out how much to get—now I'm just a few clicks away every spring. Consider me a customer for life!
I'm a veteran, so when I heard that Haulstr was finding vets and first responders to drive, that meant a lot to me. My order was delivered correctly by a respectful off-duty firefighter.
Drive for Haulstr
Many Haulstr drivers are veterans and first responders. Who better to serve our customers than those who serve our country and communities? Join our team today.
Like us on Facebook for updates on organizations we're working with and to hear about additional services offered throughout the year.