How To Re-Mulch
Delivering Mulch & Firewood to Support Local Causes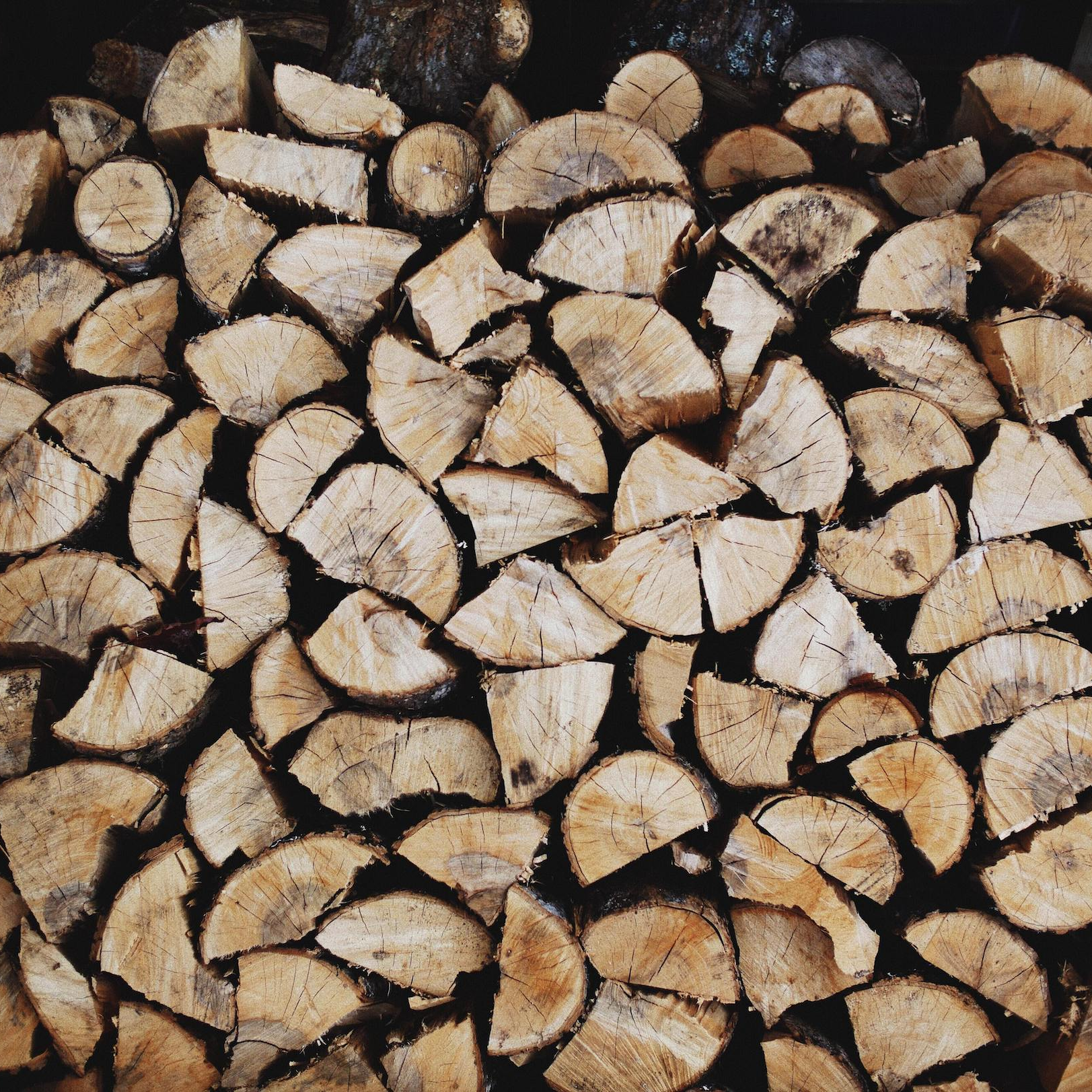 Firewood Delivery
Schedule your firewood delivery in a few clicks, and stay cozy all winter long. 
Landscaping & Patio
Create a backyard oasis with new mulch beds and plants or your dream patio.
Simple Online Ordering
Order today & schedule delivery for any date you like.
How To Re-Mulch
As you're considering replenishing your mulch piles, there's one fundamental question to ask: Is mulch good for plants? Yes! Mulch will improve everything about your plant soil, from moisture retention to temperature consistency and the prevention of weeds. 
Organic mulch breaks down on its own, so it's common to lose an inch or two over a year. That's when it's time to look into how to re-mulch. Natural decomposition means it's not always out with the old and in with the new. With that extra room, all you have to do is top off your mound. 
Once you've re-mulched, you have a few options to ensure your handiwork isn't lost:
How to keep mulch in place:

You need something just high enough to provide a barrier for any scattered or falling pieces, especially on a slope. Typically, perimeter plants are used to create a protective border. Think any kind of low shrub, like holly, boxwood, yew, or juniper.

How to keep mulch from washing away

: Line a little fencing around the plant bed. Often, solutions include edging made from wood, metal, plastic, or stone. These options are suitable if you don't want additional gardening. Haulstr also provides professional edging as part of our mulch installation.
There are a few times to ask, "Should I remove old mulch?" You can skip a complete replacement if it's simply a matter of fading. Use colorant to restore the mulch to glory, or turn the pile to refresh old pieces. When you've identified plant rot, you'll need to trim away the mushy, red roots and any wilting or yellow leaves. If your plant's roots are still firm, they can be saved (though not common). Either way, you'll want to ditch the diseased soil and start over, especially if there's a sour smell or fungus. Rot can be avoided in the future with better drainage or watering less frequently.
For more on how often you should re-mulch your yard and the best practices around it, see How Long Does Mulch Last.
How To Spread Mulch
As you're re-mulching, here's how to spread mulch to achieve maximized results all year round.
First, it's best to hand-weed the area versus spraying a weed killer or attempting to smother them. This way, you clear your beds but don't risk pesticide-ridden or overly-heavy mulch piles.
Aside from shaking out bags or shoveling mulch from a wheelbarrow, the best tool to spread mulch is a bow or leaf rake (unless you're moving finer mulch varieties). The tines help break up larger pieces, and they're convenient for the turning process, which is necessary for re-mulching to aerate and smooth the pile. As for how to turn mulch, grab that rake (or a pitchfork), and drag it through your matted mulch, churning it every so often. Fast, easy mulching can be accomplished with a mulch spreading machine, such as a blower. But either way, an organized look is best achieved by patting the piles into place with gloved hands.
Don't pad it around the base if you're mulching around trees and shrubs. Leave three to six inches of space for water and ventilation. For more on the different methods of re-mulching what kind of mulch to use for plant beds, vegetable gardens, and trees, you can find additional examples in our article How Often to Mulch.
Concerning how deep should mulch be, stick to two to three inches. Four inches is pushing it. You don't want a mulch layer so thin that weeds make their way through or so thick that water can't. But two to three inches is enough mulch to keep weeds and water in and keep pests and cold out.
Want to skip all the math or the labor of heaving bags to and fro? Our team will do the heavy lifting! Mulching is made effortless by Haulstr. We offer full-service mulch delivery and installation with professional landscapers and local mulch supply. Haulstr's online service allows customers to schedule their mulch delivery and installation with just a few clicks.
How To Mulch Flower Beds
While you're in the process of re-mulching, consider a few best practices on how to mulch flower beds:
First, check for signs of rot to make sure the soil underneath is healthy. That way, you're not encouraging disease (or trapping it). 

For the same reason, measure the mulch mound to ensure your new layer won't cause the pile to exceed four inches. Anything more will suffocate your flowers. 

Fluff up the existing mulch to air it out.

Once your new mulch is spread, water the fresh layer to lock it into place.
It's essential to re-mulch with the suitable material, so you don't attract pests (hey there, shredded leaves) or introduce too much acidity into your soil, killing off your flowers (looking at you, pine needles). It's also a matter of finding the best fit for your climate to get the longest-lasting mulch. So what is the best mulch for flower beds?
The best mulch for flower beds will be organic varieties, like compost, grass clippings, or straw. But there are a few exceptions. Fresh wood chips, for example, are too big to break down quickly enough to release nutrients into the soil. They also might fight your flowers for those same nutrients. Rock mulches are a hybrid between organic (natural) and inorganic (because they don't decompose). But they should be reserved for alpine flowers that prefer that environment. 
For enriching mulch flower bed ideas, consider "living" mulches such as clover, thyme, buckwheat, rye, or alfalfa. These mulches often lead to more abundant flowers. You can grow these separately and mix them into your soil for a sturdy, nutrient-dense flower bed. Haulstr offers a variety of mulch types to enhance your soil's nutrients. We offer soil and compost for vegetable gardens as well. You can review our products and pricing to find the best mulch for your soil and flower types.
What To Do With Old Mulch
Let's walk through the steps of what to do with old mulch.
First things first — how often should you replace mulch? When does it qualify as "old?" Some customers certainly order mulch twice a year (spring and fall) to keep the moisture and mulch quality up to par. Fall mulch provides much-needed insulation for your plants to brave through the winter. And many plants go dormant this time of year, so future you will thank you. You can check out How Often You Should Replace Mulch for more on best practices regarding when to mulch, how often, and how to keep it in place to last for an extended period. 
That being said, if you have a fresh seasonal batch of mulch or you've spot-checked the health condition of your plant bed, and it was less than satisfactory — here's how to refresh old mulch:
Blend it with compost and reapply. If this doesn't apply to your plants, move on to the next step.

Time it properly. In spring, wait for the soil to warm. In fall, wait for just after the first frost. Both measures ensure the ground is moist, not frozen.

Avoid sunny days, so the sun doesn't damage your plant roots.

Remove the soil with gloved hands to protect yourself against potential bacteria. Dump it into a tarp or bucket for easy removal.

Empty the contents of the tarp or bucket into the trash.

Prep your plant bed by clearing out debris. (Haulstr offers

brush haul away

to cover the complete mulching process from start to finish.)

Start shoveling and padding your replacement mulch layer (again, two to three inches is ideal).

Water mulch after putting it down

to help the layers settle.
If the only thing standing in your way of re-mulching is the idea of manual labor, Haulstr can resolve the backbreaking demands of your spring gardening. Call us today.
Mulching Tips And Tricks
Using our mulch calculator, you can quickly identify the total square footage of your plant beds just by dragging the length and width adjusters. You'll get an immediate output for the exact amount of mulch you need to re-mulch your plant beds — enough, so you don't run out mid-project and not so much that you have to find storage afterward. This is especially helpful if you're "spreading" the project across several days (see what we did there?). You can visit our breakdown on How Much Does a Yard of Mulch Cost for more transparency into our pricing. You can refer to our complete Mulching Tips And Tricks article to get more mulching tips and tricks. You can also call up the experts on our Haulstr team, who have resources to help you find the right type of mulch for your yard, along with how much you need.
Before you consider how to spread mulch from a bag (quick summary: a lot of heavy hauling), know that Haulstr will do the "groundwork" so you ultimately do less gardening. If you'd prefer not to get your hands dirty, our team will fend off the fungus and meticulously measure it so that the soil isn't too heavy. We offer dyed or natural mulch grades, and each strain is entirely natural, nontoxic, and pet-friendly. The best part? All of our mulch is delivered to your driveway in bulk with simple online ordering, convenient scheduling, and contact-free drop-off. 
Haulstr believes in serving our community with our business model, providing local, Indiana-sourced mulch while also allowing our customers to support a cause of their choosing. At Haulstr, every yard of mulch you order gives $5 back to your community. Haulstr averages $30 of donations per order; it's all the more reason to re-mulch those plant beds with Haulstr this season.
Homeowners love it
Pick the mulch you want, schedule a 1-hour window for delivery, and one of our Haulstars will be there to deliver your mulch.
I scheduled my mulch 3 weeks in advance, and it showed up on the hour. Best of all, my order helped our school raise money for our new PE equipment.
What an amazing experience. Mulch is such a pain to pick up, figure out how much to get—now I'm just a few clicks away every spring. Consider me a customer for life!
I'm a veteran, so when I heard that Haulstr was finding vets and first responders to drive, that meant a lot to me. My order was delivered correctly by a respectful off-duty firefighter.
Drive for Haulstr
Many Haulstr drivers are veterans and first responders. Who better to serve our customers than those who serve our country and communities? Join our team today.
Like us on Facebook for updates on organizations we're working with and to hear about additional services offered throughout the year.