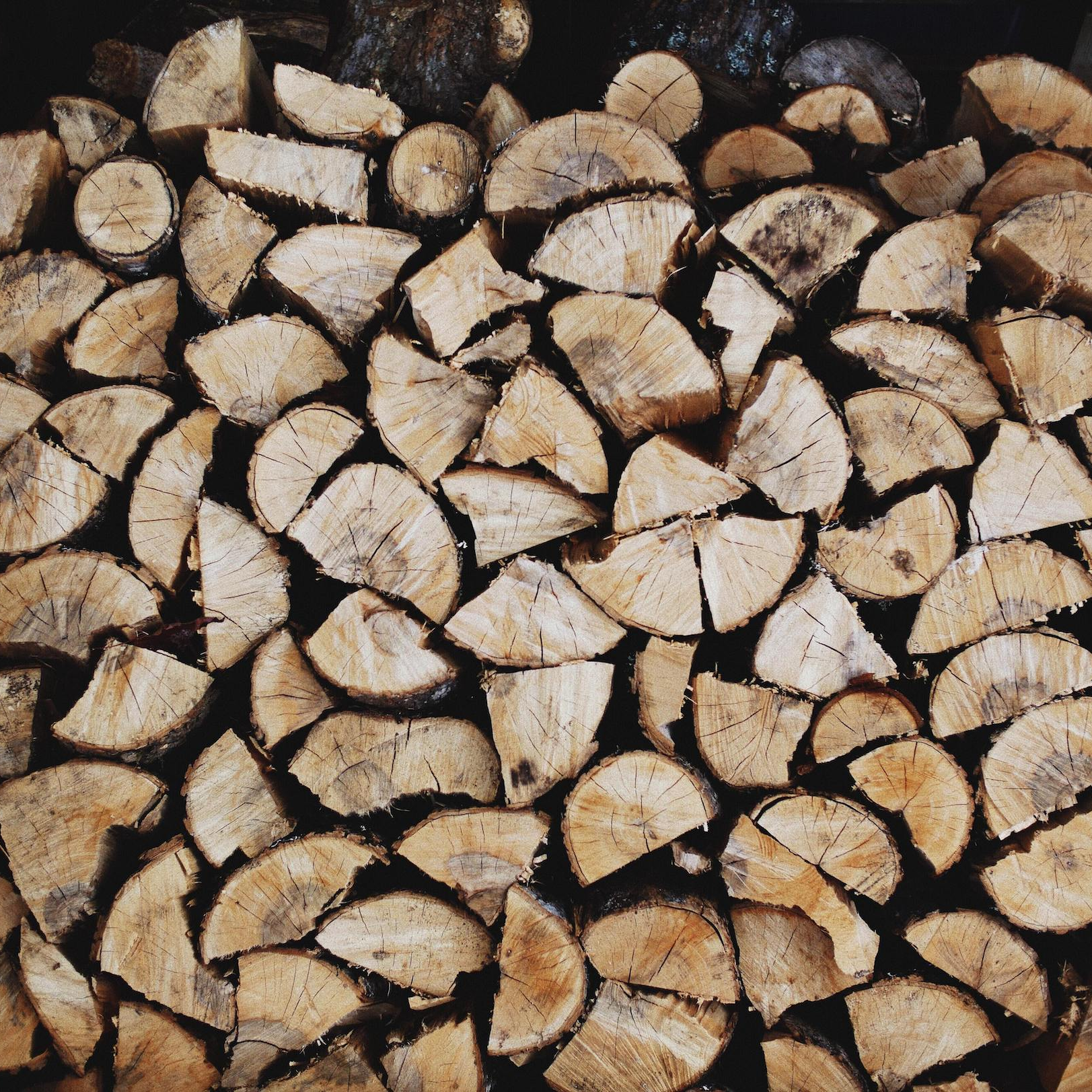 Firewood Delivery
Schedule your firewood delivery in a few clicks, and stay cozy all winter long. 
Landscaping & Patio
Create a backyard oasis with new mulch beds and plants or your dream patio.
Simple Online Ordering
Order today & schedule delivery for any date you like.
Mulch Home Delivery
If you're new to landscaping or just want to create a fresh new look for your garden this year, it can be difficult to know how and where to get your mulch. After all, lots of different retailers supply mulch. There's Walmart mulch, Home Depot mulch, and Lowe's mulch delivery – how can you choose? 
There are many different kinds of mulch, which are not suitable for all purposes. For example, one of the only types of mulch that Lowe's offers for delivery is shredded rubber mulch – like the kind you find on playgrounds. Not exactly recommended for your shrubs and rose bushes! 
Haulstr offers residential landscaping services as well as mulch and firewood delivery. With every order placed, we give back to local causes in the communities we serve. Unlike other mulch home delivery services from big box stores, Haulstr makes it simple to schedule your mulch delivery. With just a few clicks, you can determine when, where, and how much mulch will be delivered to your home! 
With Haulstr, you can search 'mulch near me,' and if you've stumbled upon our webpage – you're in good shape. With just a few more clicks, you can have mulch delivered to your home in no time!
Haulstr offers a variety of different mulch products. There's the Haulstr Classic in brown and black, the Haulstr Hardwood Bark Blend, Haulst Fines in Brown and Black, and compost and topsoil options. Our most popular mulch is the Hardwood Bark Blend, which is perfect for serious gardeners due to the lower potential for weed seeds to hide in the mulch. It is also a popular color – rich dark brown. When you're ready to move forward with your selected mulch, all you have to do is select the "Get Started" button. One of our drivers will arrive at your specified date, time, and location with your mulch.
Bagged Mulch Delivery
Some people prefer bagged mulch delivery over loose mulch in bulk. And at first, we can see the appeal. After all, with bagged mulch there's less mess, it's easy to keep leftover mulch in their bags for next season or the re-mulching, and you can simply carry the mulch around in the bags to install. However, that's where the benefits of mulch in bags end. Bulk mulch is much more cost-effective than bagged mulch. Bulk mulch offers a better volume-to-cost ratio than bagged mulch and comes without the need to discard or recycle so much plastic waste from the mulch bags.
Bulk mulch is also charged per yard instead of per bag. It is also less common to find retailers that will deliver bagged mulch to your door – instead, you have to find your own vehicle that is capable of carrying dozens of bags of mulch, as well as placing them in and out of the vehicle yourself. With Haulstr, you can select your mulch online, schedule your delivery, and stand outside in your yard as our delivery drivers take care of the rest – depositing the mulch according to your specific needs. If you're not sure just how much mulch you'd need to purchase, Haulstr has a mulch calculator to help you determine the best amount for your purposes. 
While Haulstr does not offer cedar mulch delivery, we are a premier black mulch delivery option. Haulstr strives for transparency in all of our business practices, which extends to our pricing and fees. There are no hidden fees with Haulstr – instead, every order you place helps give back to a local cause in the community. Haulstr also includes real-time updates on your order from the moment you place it. If you'd prefer, you don't even have to be home when we drop it off! 
Bulk Mulch Delivery
Bulk mulch delivery is the way to go if you have a large amount of yard or landscaping to cover. Instead of spending hours in the hot sun carrying bags of mulch back and forth, you can buy mulch in bulk online and have it delivered straight to your yard – as soon as the same day! 
If you're looking for the best mulch delivery 'near me' and you've stumbled upon Haulstr, you can stop looking (not to brag). We have glowing customer reviews and are committed to getting it right. While mulch can last for up to five or six years in the best-case scenario, many gardeners and outdoor enthusiasts end up replacing their mulch every spring. If you're choosing 'bulk mulch delivery near me' to possibly visit every year – you'll want to make sure they're the best! 
The Haulstr team has over twenty years of landscaping experience. We noticed that there was a need in our area for stress-free and simple mulch purchasing, delivery, and installation. Purchasing bagged mulch annually contributes to a lot of plastic waste, leaving you with bags to dispose of in a landfill or find a recycling plant to take them. 
When you purchase mulch in bulk from Haulstr, there are three easy steps. The first is to enter your address to allow us to confirm availability in your neighborhood. The second step is to select your services, such as a mulch installation, firewood delivery, mulch delivery, or any of our other services in your area. The third step is to schedule your delivery and pay! We will send you updates on your order as the date approaches so that you always know the state of your order. Haulstr will even deliver your order in light to moderate rain unless you reschedule.
Bulk Mulch Prices
Bulk mulch prices are much more affordable when compared to bagged mulch. Based on the current volume of bagged mulch, the average household would use 81 plastic bags of mulch to cover only six yards. That's almost $600 – for six yards of mulch! Let's say you purchase the most premium mulch available in bulk at $50 per yard (Haulstr's most expensive mulch is $48.95) – for six yards, that's a savings of 50%! 
Many homeowners and gardeners often find themselves in need of much more than six yards of mulch. If you're wondering about a specific number for yardage, such as how much 10 yards of mulch, using Haulstr's mulch calculator should help. While we don't offer free mulch delivery, we do offer a premium mulch delivery experience, supporting local causes with local drivers delivered on your schedule. 
Mulch delivery costs are based on a few different factors, such as labor, the cost of materials, and other fees, such as transportation fees. Haulstr strives to be transparent in our pricing. If you ever have any questions, please contact us. When you pay for mulch delivery in bulk, you're also paying for the convenience of getting to focus on other important matters in your home rather than lugging bags of mulch back and forth in the store, dragging them around your yard, using your own gas, etc. Haulstr even offers mulch installation services if you'd like a truly hands-off experience.
Mulch Delivery And Installation
Haulstr mulch delivery and installation can create a hands-off and stress-free experience from something that usually requires a lot of hard work and manual labor. Haulstr's mulch installation process includes delivery, a light bed clean out, mulch bed edging, and mulch spreading. It is recommended that you do a clean-out of your mulch bed before scheduling an installation. However, if you contact Haulstr for a quote, we'd be happy to discuss a heavy or full bed cleanout with you. A light bed clean-out is defined as a mulch bed with one bag or less of weeds or leaves. It tends to be better for your mulch beds to clean out before laying new mulch, but the choice is yours!
If you're wondering about the cost to install mulch per square foot, we charge by the cubic yard. If you're using our mulch delivery calculator, you can also use the results as a mulch installation cost calculator to determine the total cost. Or you could call Haulstr and discuss it with us, and we'd be happy to send you a custom quote, no math required. All of our mulch installation projects include mulch bed edging. It's just the right way to keep our customers' yards looking beautiful! It also protects against erosion and the rain from washing mulch into your yard.
Mulch Delivery Cost
Bulk mulch delivery cost is going to save you money over bagged mulch. It will also save you the effort of going to the store, placing bag after bag in your cart, and loading your vehicle. Remember – the average household uses 81 bags of mulch for every six yards. Are you excited about the idea of loading 81 or more bags of mulch into your vehicle and then unloading them when you get home? Storing them in your garage? 
Ordering mulch in bulk also protects against wasted money and unused mulch. When you identify the cost of mulch per yard installed compared to the cost of bagged mulch, you could have a savings of 50%. If you don't store bagged mulch properly, it can spoil, leading to a useless product. No one wants that! Using a mulch yardage calculator, it's easy to determine just how much mulch to purchase, eliminating waste and the need for storage. Our delivery drivers can work with your schedule, depositing the mulch on the day you need it.
It's tempting to search for the 'cheapest mulch delivery near me', and while Haulstr prides itself on being cost-effective, we also implement a give-back model in all of our orders. We support local causes in the communities we serve and strive to give everyone a wonderful experience and quality product.
Homeowners love it
Pick the mulch you want, schedule a 1-hour window for delivery, and one of our Haulstars will be there to deliver your mulch.
I scheduled my mulch 3 weeks in advance, and it showed up on the hour. Best of all, my order helped our school raise money for our new PE equipment.
What an amazing experience. Mulch is such a pain to pick up, figure out how much to get—now I'm just a few clicks away every spring. Consider me a customer for life!
I'm a veteran, so when I heard that Haulstr was finding vets and first responders to drive, that meant a lot to me. My order was delivered correctly by a respectful off-duty firefighter.
Drive for Haulstr
Many Haulstr drivers are veterans and first responders. Who better to serve our customers than those who serve our country and communities? Join our team today.
Like us on Facebook for updates on organizations we're working with and to hear about additional services offered throughout the year.